Tips For Packing Elk Out Of the Backcountry: On Foot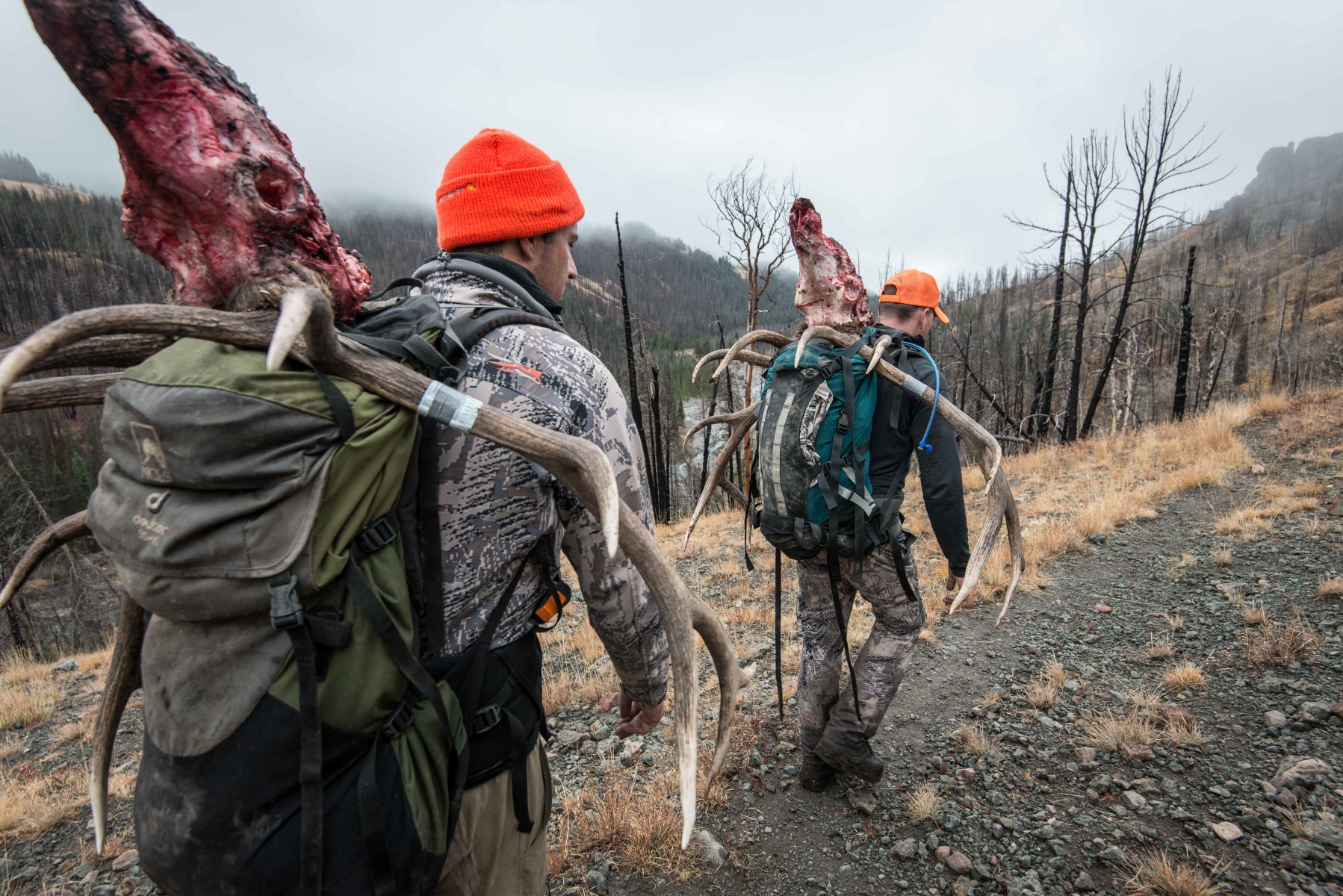 I've made a habit over the past few years of shooting elk farther and farther from the truck, in places with no motorized access and only my back to pack em out on. Many have asked why I'm willing to put in so much effort and, at times, suffering. For me the answer is simple. I'm not a very good elk hunter. But I am willing to use my legs and work hard. Going deep into the backcountry is the only way I know how to consistently find elk.
Every time I'm fortunate enough to be a part of taking an elk there is moment when the initial euphoria gives way to the sudden realization that an enormous task of getting a huge animal out of the mountains is now upon you. Learning from others, and through trial and error, I've adopted a handful of strategies to make the job a little more manageable.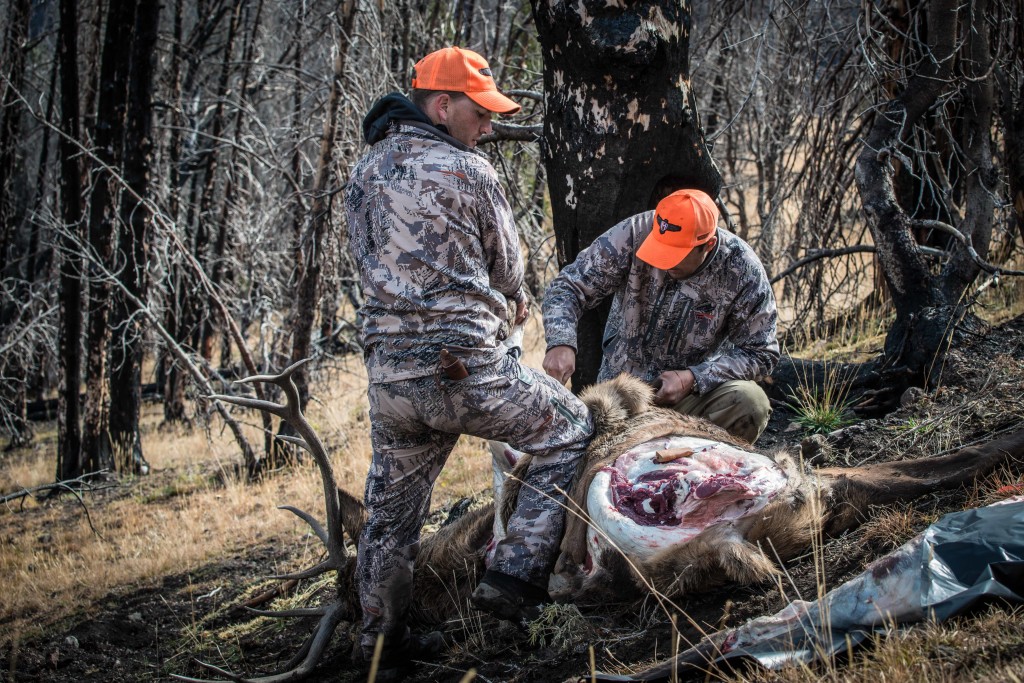 Go Gutless — I'd heard about it for years, but was always a bit intimidated, until I tried it. Now I'm sold. In short the gutless method is a way of removing all of the quarters and meat from an animal without removing the guts from the chest cavity. The main reason I prefer this method is that it is far more efficient. Given the scale of the task at hand saving time matters. There is also no cutting of bone, which also allows me to save weight and leave the saw at home. Randy Newberg of On Your Own Adventures, has a great video tutorial of this method here.
Bone Em Out — You can't eat bones, and when you're miles from the truck every ounce matters. Boning out your elk in the field removes roughly 10-15 pounds per quarter. As the miles add up this becomes significant. While boning adds time initially, your body will thank you, and you might make it up by hiking more quickly. To keep the meat clean I have a couple large trash compactor bags with me and do my cutting, one quarter at a time, with the quarter laid on top of the plastic bag. If temps are cool I then transport the meat in the trash bag, as it keeps the meat and gear in my pack cleaner. In warmer temps, I would recommend switching to a breathable game bag.
The Pack — For packing out a boned out elk you don't need a large pack, but you do need a good suspension system to carry the load. The meat isn't bulky, but it is dense and heavy. It is the definition of dead weight. I bring one pack on my backpack hunts that is well suited for carrying in my camp and then hunting with for the day. While the pack is slightly larger than I would choose for a day hunt, I don't want the increased weight of bringing two packs on my hunt. Similarly, if I have an elk down the last thing I want to do is add miles by having to hike back to camp to get a different pack for hauling meat. When setting up a base camp several miles into the backcountry an internal frame pack that is about 5,000 cubic inches with sturdy suspension works best for me.
Three Is A Charm — Over the years I've packed out a couple elk on my own, but most often I've had a buddy with me. The equation has been simple. One quarter per person, plus a back-strap, tenderloin, or bag of body-meat is a realistic load. With this approach two people can pack out an elk in two trips. This past year there were three of us hunting together and I wondered if we could pack out an elk in one load. The prospect of carrying more weight was unappealing, but eliminating the second round trip could be huge. We ended up filling our two tags and successfully carried them out in one trip each. Both elk were killed 7 miles from the truck so this saved us 28 miles of hiking. It also removed the hazard of leaving our elk overnight in grizzly country. The loads were heavy but it paid dividends.
For me there is no greater satisfaction than a successful backcountry public lands elk hunt. Any way you slice it, packing out an elk under your own power is no small task. But through preparation and by honing your methods it is manageable and attainable for many.