A Family Affair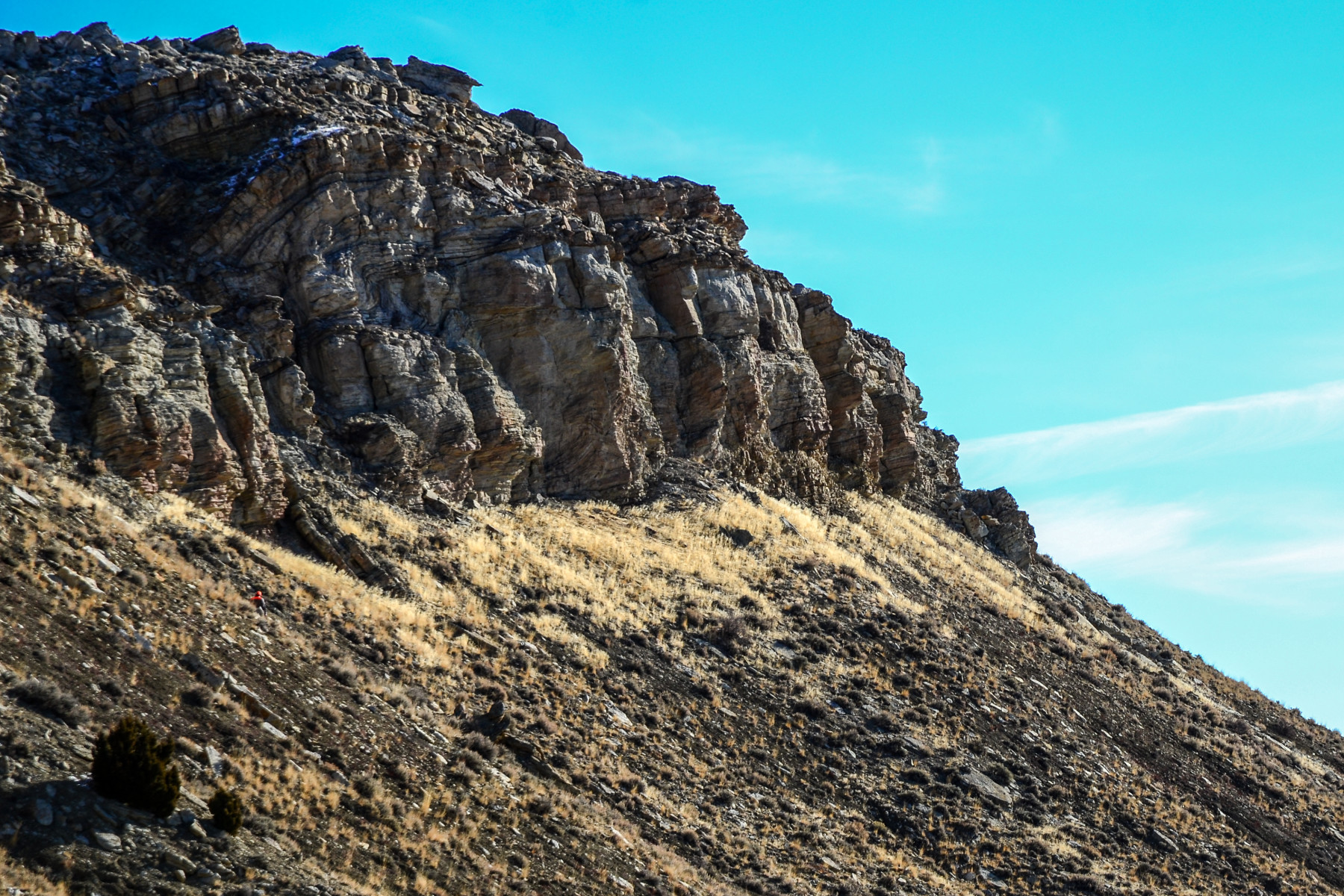 "Dada, Dada, look! Is that chukar poop?" asked the kindergartener.
"Not sure son. It's bird poop, for sure, but probably not chukar poop. Hard to say."
"Well if it is, than we're in a goooood hunting spot, cause there's LOTS of it!"
The cards were stacked against us. We knew that much going in. I was up for whatever good omen we could find.
"Hey look here in the snow," I said. "That's what chukar tracks look like. Can you be on the look-out for more of those for us?"
"Sure. I'll just take a picture of it so I don't forget what it looks like."
"Good plan."
Chukar hunting is never easy. By the end of the season, though, the birds that remain are wilier, warier and more wickedly distributed than those you might hope to find on opening day. Fold in a cruel blend of late January ice and mud and the degree of difficulty ratchets up another notch. It's not exactly a scenario that begs for a pair of little legs or a five-year-old's attention span. It was an easy decision, though, to add them anyway.
Call it one more item for the "Beautiful things about life in the field" list. Hunting and fishing can focus and clarify our choices, and their results, in ways that we rarely get to experience otherwise. It may be true, as some philosophers argue, that our lives, perhaps even our selves, are little more than the culmination of an endless string of decisions. But rarely are the stakes so straight-forward or the results so quick and unambiguous as they are out of doors.
You'll probably never know how life would have been different if you took that literature class in college instead of chemistry, or decided against going to the funeral. When you choose the right ridgeline on an elk hunt, though, or the wrong line through the rapid, the feedback in usually fast and unmistakable. That kind of black and white simplicity is hard to come by in this world.
At first glimpse, the quandary I faced on the last day of chukar season seemed a bit more gray. On one hand, I wanted to end the young dog's first season on a high-note, cement the lessons of five months afield together, and build some positive momentum for the future with a limit of birds. The additions of wife and son to the expedition would mean less mileage, terrain limitations, and fewer opportunities. On the other hand, they'd not yet seen the pup do her thing. They'd heard my boring stories about her instincts and athleticism, obedience and adrenaline, but not yet experienced them. It would be seven months before they had another chance to appreciate this facet of the newest member of our family.
"Did you guys catch any Dada?" hollered the amped kiddo as he caught up, rounding the last bend.
"Fraid not bud," I said with a smile.
We didn't have any birds, but I did have the satisfaction of knowing I'd chosen correctly.
The dog wasn't so sure.