Hooked On The High Life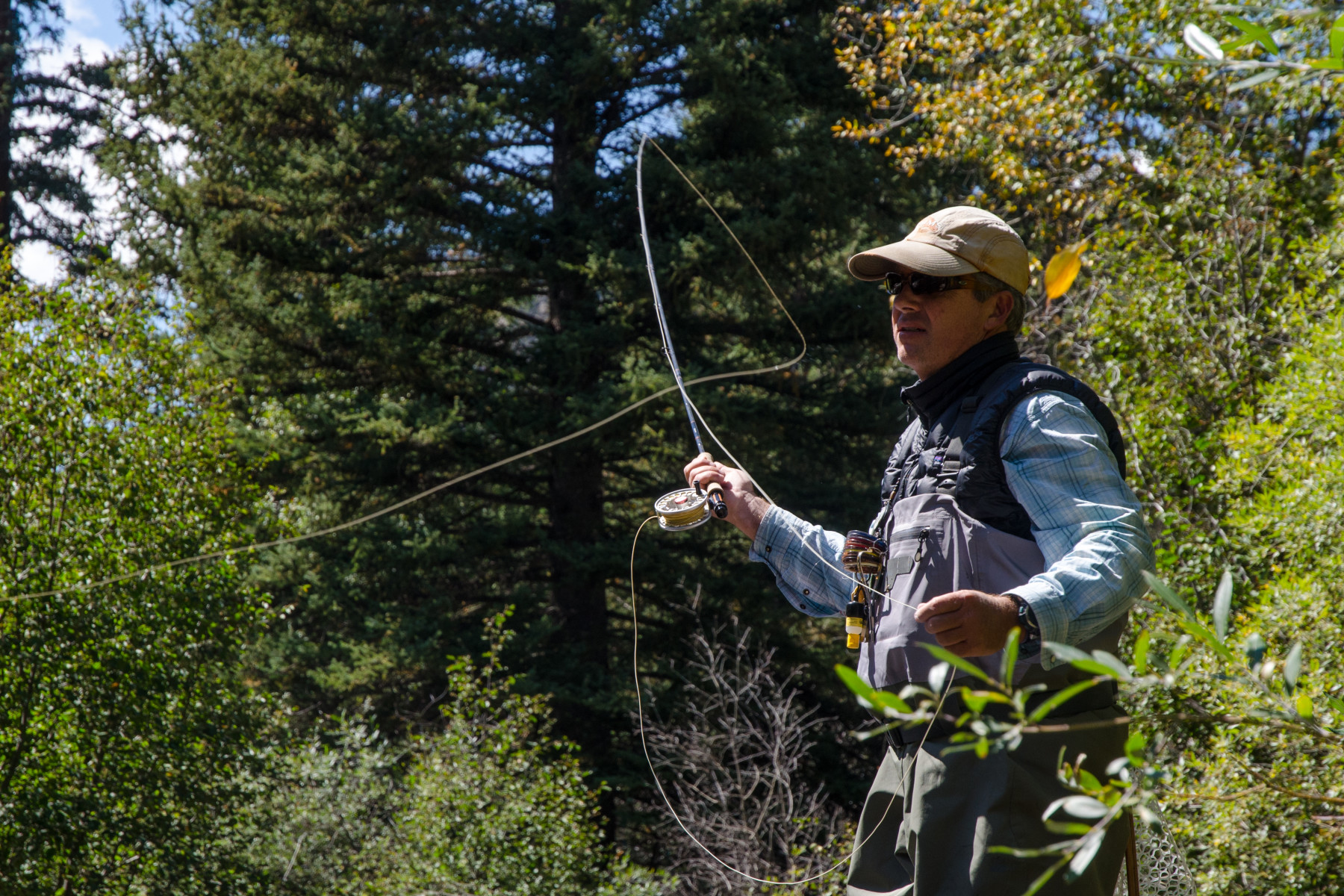 How's that?" I asked, frowning into my crackling cell phone. "Did you say salmon?"
"Exactly," confirmed the young woman on the other end as I ransacked the glove box for a pencil.
"Colorado salmon?" I pressed, confident that those words had no business sharing a sentence.
"Correct," she confirmed.
"Okay . . . And that was 'bespoke adventure'?"
"A curated fishing experience," she clarified.
I realized then the root of our disconnect. We lacked a common vocabulary. As a longtime outdoor educator and public water do-it-yourselfer from small town Wyoming, I was not the typical client of Eleven Experience, which according to its website, offers "unique vacations for those who prefer a little adventure with their luxury."
"Please count me in," I said, feeling like a fox that had just been invited into the hen house.
As a matter of policy, I never refuse a fishing invitation. This particular proposition, though, put both my curiosity and my skepticism on high alert. The fact that my typical "luxury" fishing trip involves name brand hotdogs, a mid-shelf bottle of scotch, and a lonely place near the river for my bedroll, was at least partially responsible for the heightened interest.
My Wyomingite's ingrained suspicion of all things Coloradan must have factored in too. But I think it was the concept of a handcrafted experience that really tickled my antennae. What did that even mean? I didn't know who the folks at the Eleven thought they were, or what they were up to, but as an intrepid journalist who harbors no concern for his personal comfort, I felt a moral obligation to investigate. Those poor trusting saps would never know what hit them.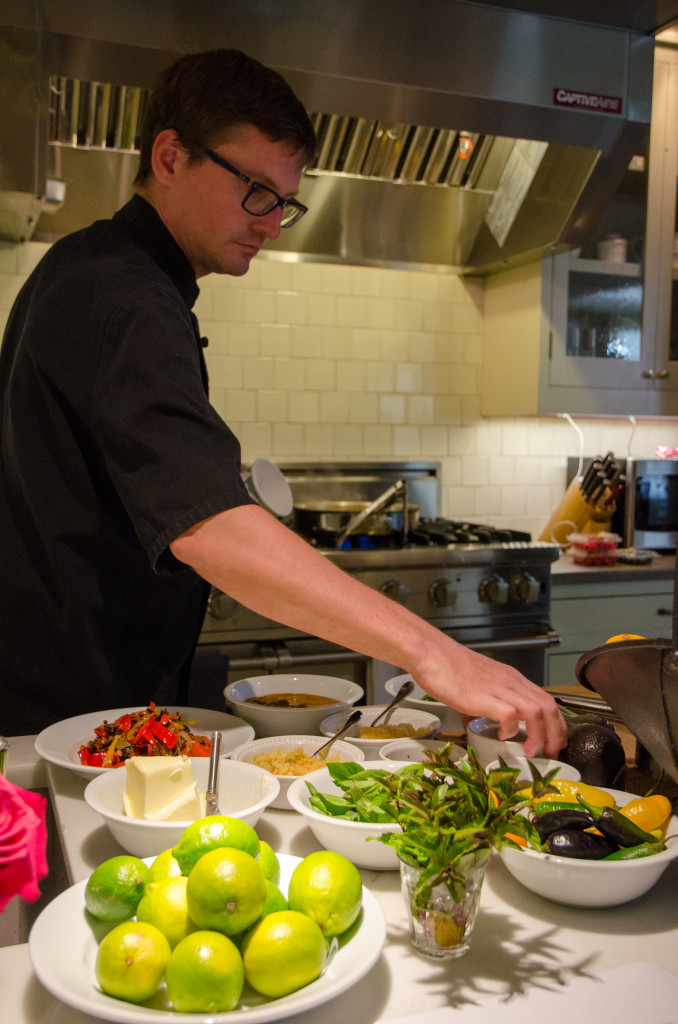 In a state known for remote mining villages turned quaint outdoor-lifestyle destinations—think Aspen, Telluride and Ouray—Crested Butte, Colorado, stands out as more genuine, less contrived; a living, breathing community, complete with actual work-a-day residents. At least that's how Scarp Ridge Lodge collateral described it.
I planned to explore the town and make my own evaluation as soon as the in-house masseuse finished kneading the travel kinks from my back . . . well, maybe a trip to the saunas first. (Steam then dry heat. It's important to start these things fresh.) But I'd certainly start investigating sooner than later.
In the meantime, the fact that the woman who was elbow deep in my hamstring chatted about her prospects for elk season and the character (but not locations) of her favorite fishing holes lent credence to the premise.
I knew from research that the mining town portion of the narrative was true enough. Shallow coal seams put CB (as it's known to locals) on the map. And true to convention, the burg's livelihood had shifted to rely on an entirely different set of natural resources, namely deep powder, pristine water, and wide-open spaces. But a pre-dinner jaunt around town suggested that remoteness had thus far spared it the cultural lobotomy that so often accompanies the pursuit of a tourism-based economy.
CB is positioned in a natural cul-de-sac high in the West Elk Mountains, more than four hours by road to the nearest major city, and 30-plus minutes from a commercial airport. Black bears roam the streets after dark, and in the fall residents often wake to elk bugling like so many Boone & Crockett worthy roosters.
I dutifully noted that Eleven's choice of locale for its flagship lodge spoke well of their taste. But the proof of any outfit is in the pudding, and we weren't even through with the proverbial appetizers yet.
Actual appetizers were waiting for me when I returned from my walk. Crab cakes with red pepper aioli, to be specific, prepared in the lodge kitchen by Spencer – accredited sommelier, former road chef for Neil Young, and beloved local restaurateur extraordinaire. They were very, very good, and if I'm honest, my critical resolve wavered for the briefest moments when Cameron, his girl next-door-beauty of an assistant, mixed a perfect Manhattan to help me wash them down. It was touch and go for a second, but I regained my composure in time to meet the adventure staff with appropriate professionalism.
Moose Hofer, director of fishing operations, was built to fit the name, had a resume to match the title, and a beard that put most actual moose to shame. He was so effective on the water, I would later learn, that a grateful client once tipped him a boat.
Ian Havlick was his fresh-faced, boy-wonder, right-hand man. On the strength of his versatility and an impressive list of certifications, Ian had landed at 26 the kind of globetrotting, year-round salaried guiding gig that most outdoor industry pros only dream about. His unassuming, good-natured confidence suggested that was no accident. More importantly in my book, they both proved great company over supper, the kind of guys you wouldn't mind sharing a few days in a small boat with.
It wasn't long, however, before they revealed the first chink in the armor. Sure, they'd already crafted an agenda based on my responses to an advance survey of preferences, goals, fishing history, fitness level, sizes, and five-plus pages of personal minutiae, but there we were, day one not yet in the books, and already changing things up. I listened to their heartfelt apologies for their inability to control the weather, some talk of rain and run-off, and the Gunnison being high and cloudy. Then came the question: Would we mind wade-fishing a tributary tomorrow instead?
I went to bed (appointed to accommodate my temperature and pillow preferences) that night with a belly full of line-caught Alaskan salmon, local chanterelles, elk tenderloin, saffron poached pears, and a touch too much perfectly paired wine, comfortable in the knowledge that, while impressive on first review, these people were fallible. I only had to bide my time before I found the fatal flaws . . .
Those shortcomings didn't turn up the next day.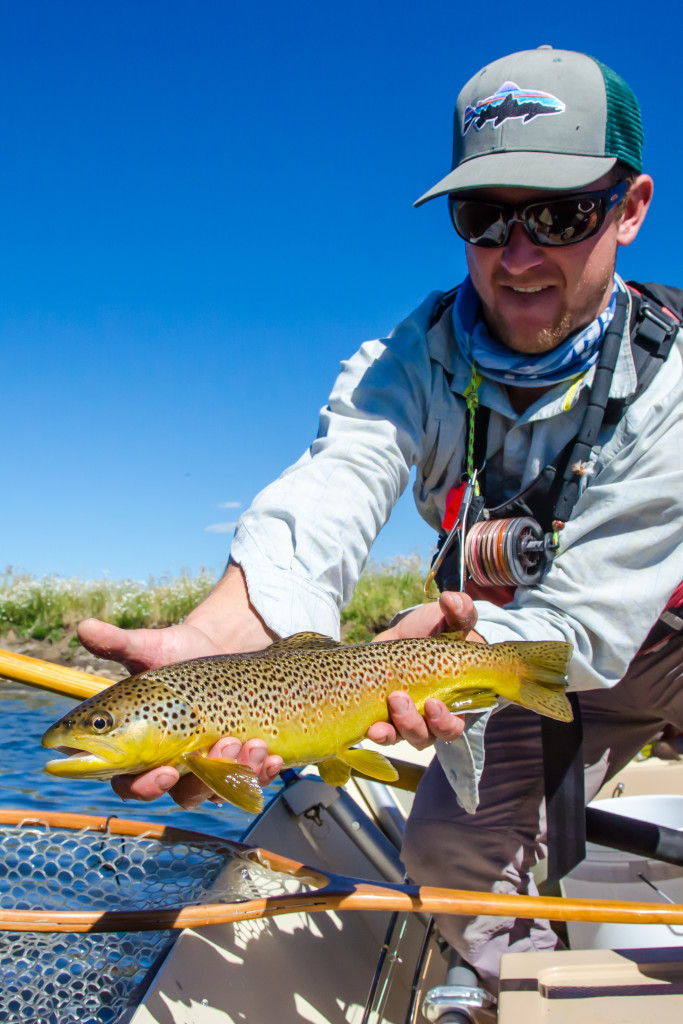 Familiar with the Taylor River's reputation as a productive, but technical tailwater, I braced myself for a day spent among scholar athletes—brawny trout, so well educated by throngs of fishermen that they're nearly impossible to hook. Had Ian and Moose delivered us at first light to the public waters immediately below Taylor Reservoir Dam, that may well have been the scene. Instead, they were rigged and waiting streamside when the lodge staff deposited us at an exclusive private stretch nine miles downstream and a world away from the crowds.
There, pouring through its narrow granite canyon, where dashing little currents and urgent seams conspired with a bed of boulders to form a jumble of clever pockets and promising pools, the river looked more like one of my favorite wilderness freestones than a pedigreed destination fishery. Everywhere my eye landed invited a drift or two.
I pried my gaze from the river long enough to assure Ian that I was paying attention to his introductory run-down, even though I wasn't. Fishing guides typically find it's important to set the tone early—establish expectations, safety guidelines, roles, and responsibilities—and most have a spiel that covers those bases. It's a good policy. They're staring down a workday with a complete stranger who may or may not have any idea what they're doing. An ounce of prevention is worth a pound of cure. So I was surprised when Ian cut his spiel short the instant he recognized my Pavlovian response to the river.
"You look like you're ready to take a walk," he said with a conspiratorial grin. "How about we set you up with a beat and let you have at 'em, while I get Darrell lined out?"
"Sounds like a plan," I said, realizing then that his early success likely owed as much to his client intuition as his technical savvy.
The piece of water Ian led me to looked much like the rest. There was a quarter-mile of private above me, he explained, followed by more public water than I could walk in wading boots, all of it solid.
"But, honestly, what you see here," he said indicating a few dozen yards of river with a nod of his head "should keep you in fish for the foreseeable future."
I'd have assumed he was joking if not for the earnest expression on his affable face. Then he handed me a lanyard, a box of bugs, a landing net, and trotting off to find his other ward, promised to return shortly.
The first 15 minutes produced two run-of-the-mill wild browns, both on a crafty little double tungsten nymph called the Two-Bit Hooker. It was a promising start, but I still harbored doubts about Ian's fishing forecast . . . right up to the moment that the sun cleared the canyon rim.
As direct sunlight turned the river transparent, the true nature of what I was dealing with came to light. Dark shadows waved behind every rock and hovered suspended in every pool. The river was lousy with rainbows, browns, brooks, and cutthroat. I dropped involuntarily into a too-little, too-late crouch atop my boulder and realized with disappointment that the fish I hadn't inadvertently kicked wading to my perch must have been eyeing me warily since I got there.
I didn't watch the spectacle for long before realizing that, despite my clumsy approach, and the fact that I'd already dragged two of their neighbors thrashing down the block, fish were actively feeding, seemingly unconcerned by the idiot on the rock waving the stick in the air. Heartened, I slowly stood. No reaction, even from the sturdy cutthroat in my shadow. A grin spread across my face as I reevaluated the riverscape. I felt like I was invisible and standing in a giant, wild aquarium.
I stayed rooted to my rock, selecting and sight-casting to the choicest trout. They weren't spooky in the least (thanks in part to conditioning from heavy mid-summer kayak traffic), but they weren't pushovers either. It was almost too good to be true—clearly visible, big fish that hung around in tricky water long enough to dial in the right pattern and presentation.
I had just decided I could happily stand there all week when the belle of the ball rose into view. She was painted more like a Gulf Stream bull dorado than any rainbow trout I'd ever seen. As I watched her make a series of languid surface takes, I knew exactly what I wanted for Christmas. I spent the balance of the morning asking her to dance. Ian, Moose, and the Taylor were begrudgingly slated for rave reviews long before she said yes.

One strong day of wade-fishing and I was ready to trade my hard-nosed critical inquiry for a big glass of Eleven Experience Kool-Aid. Pitiful. I needed to regroup, fast. Surely an après-angling soak in one of the copper hot tubs would snap me back into shape. Or maybe a dip in the indoor pool?
In retrospect, it's obvious that I was wallowing in denial. In my defense though, the lodge was absurdly charming. It wasn't the reclaimed timber, Belgian bluestone, locally crafted ironwork, or top-end fixtures that seduced me so much as the attention to detail that wove all the elements together. Even the commode-side magazine selection felt homey. By the time I learned that lodge staff boosted oxygen levels to help guests cope with the altitude, it seemed the most natural thing in the world.
Of course they've customized the air we breathe, I thought. That's just how they operate.
My journalistic ideals struggled to survive the night, drowned as they were by sweet, oxygen soaked dreams.
Refreshed by a good night's sleep and fueled by made-to-order breakfasts, we headed to the dories and the trip's main event.
Late summer and early fall bring gold and orange to the high-country aspens and, as promised, a thick run of kokanee salmon to the Gunnison River. These land-locked sockeye have maintained a passionate following among Colorado anglers ever since their introduction in the 1950s.
Watching the hump-shouldered, hook-jawed, cherry-red torpedoes bound upstream, it was easy to see why. The handful I laid eyes on were part of what some consider the Rockies' most impressive salmon run, the annual spawning migration from Blue Mesa Reservoir—the fishes' surrogate ocean—up the Gunnison to the Roaring Judy Fish Hatchery, their place of origin. Staff at the hatchery collect and milk the adults that make it to the finish line, play nanny to the resulting offspring all winter, then release them en masse on a full moon in April. Reports of comically glutted browns and rainbows stream into local fly shops for weeks following the release. But enough salmon fry make it to the reservoir to keep the cycle going.
Unfortunately, the upstream leg of that cycle is less predictable than the downstream exodus, and our timing was just a little off. There were salmon in the river, but not yet enough for us to target them exclusively. No matter, there were plenty of accommodating trout willing to pick up the slack.
Over the course of two days we floated nearly every mile of the Gunnison from Almont to Blue Mesa, working through the entire western river fly-fishing technique repertoire. Banging the banks with streamers carried the day until the atypical late-season turbidity settled down. My favorite was a short but surprisingly hefty little number with a mesmerizing action called the "Strip Tease" (perhaps you've noticed a pattern in Ian's fly names?). As water conditions improved, so did our top-water success. Big, buoyant terrestrials triggered heart-stopping takes from below and appreciative hoots from the boat. We even gleaned some risers from a few short-lived Baetis hatches. Stonefly nymphs and various pheasant tail recipes kept us busy as well, usually as the back ends of dry-dropper set-ups.
In many ways it was the textbook, blue-ribbon, western water experience, but a couple things about the Gunnison struck me as unusual.
First, the river was a touch schizophrenic, changing from riffle, to rapid, to deep bend, to tight chute, to rock-garden pocket water every hundred yards or so. Many guides facing such rapid-fire variation would default to a bobbered, three-hook nymph rig then "hey diddle diddle, just dredge it down the middle" of the obvious holding spots while speeding past everything else.
Moose and Ian, by contrast, worked themselves into a lather from put-in to take-out, cycling me through a quiver of pre-rigged rods while hustling to swap flies and leaders for upcoming water, even though it would only afford one or two casts. It was impressive craftsmanship, even before tacking-on the considerable rowing demands.
The second facet that stood out didn't register until we reached the take-out of our first float. We hadn't seen another boat all day.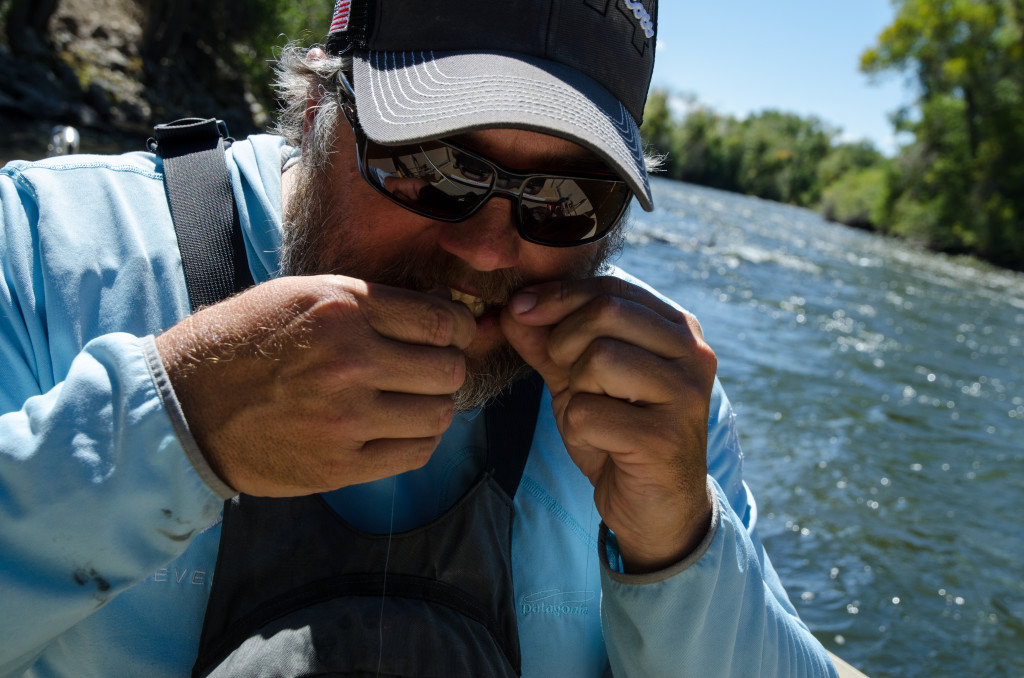 Following two days on the Gunnison and a victory lap on the Taylor (complete with the kind of streamside lunch that involves warm hand-towels and cold champagne), I'd abandoned the last vestiges of my objectivity. My primary concern had become instead the impending return to my previous fishing lifestyle. I wasn't sure I could go back.
Chatting with Cameron over grilled shishito peppers (the smoky, subtly spicy preamble to yet another Spencer-crafted feast), I learned that my dilemma enjoyed a proud tradition in Crested Butte.
"I came here for one season," she told me. "That was eleven years ago."
It was a story echoed by lodge staff and locals everywhere I went. Something about those mountains and rivers gets its claws into people.
With Scarp Ridge Lodge, Eleven Experience seems to have found a way to tap into that high-alpine voodoo. Every client who's stayed with them in the last three winters returned the following year.
Jerry Garcia crooned a likely explanation for why that might be from hidden speakers behind the bar. "There's nothing left to do but just smile, smile, smile."
* This story originally appeared in Volume 34, Issue 2 (March / April 2015) of Sporting Classics