Friday Classic: How Not To Take A Hero Shot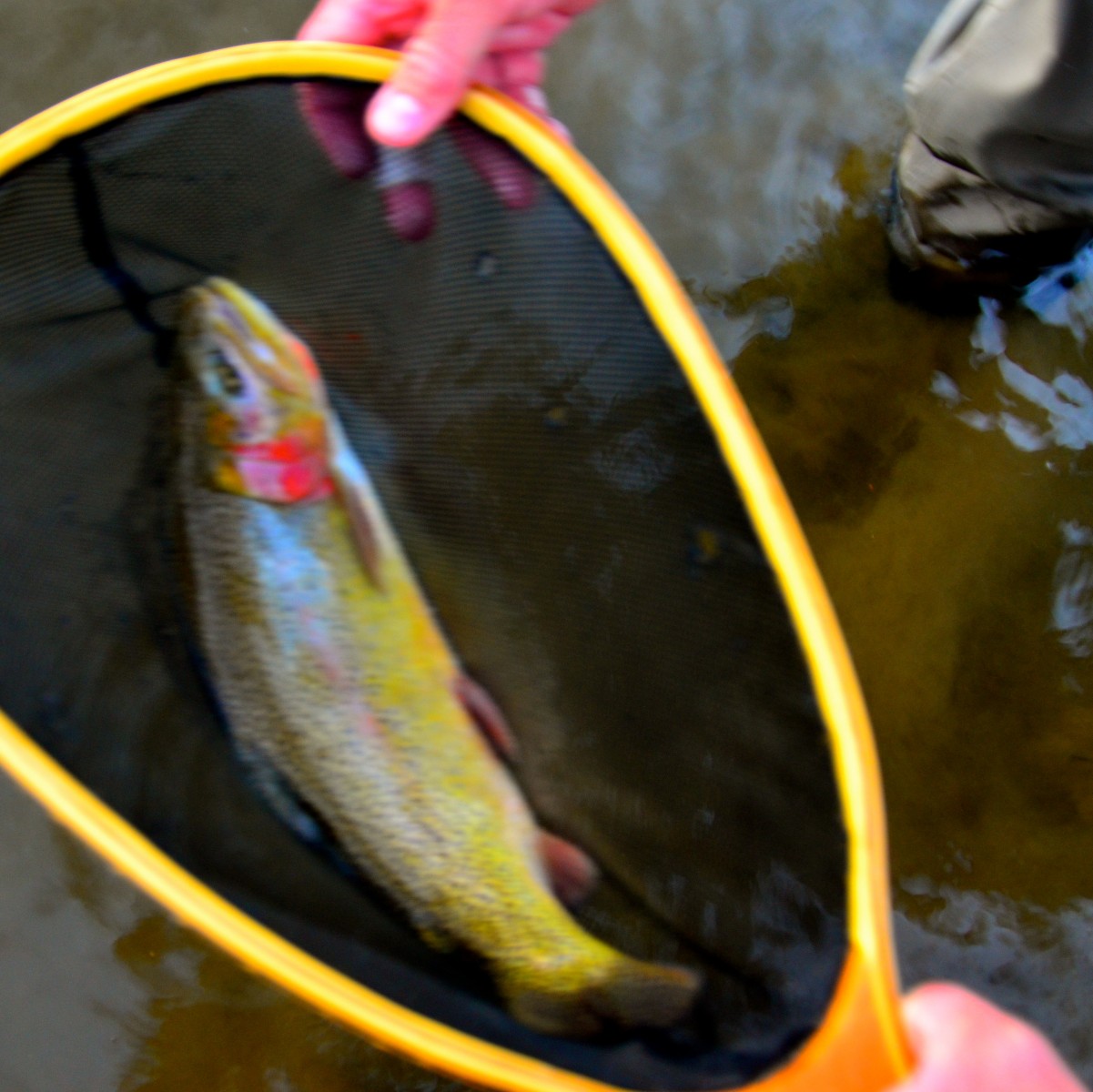 So here's the premise. Matt and I go fishing, with each of our sons. My wife and daughter are at some type of ladies event and Matt just wants to get out. For the record, Matt's son is 3 and mine is 2. Our kids are intermittently walking, playing with various found implements of destruction, or being carried in a backpack. We are psyched, as it is  rare for Matt and I to actually fish together. For the evening, I primarily wanted to shoot photos and test out a new camera. Being a dedicated photographer, I also decided to carry a rod, bring my two labs and don't forget the two year old I mentioned earlier.
There was a nice mayfly hatch coming off, but waters were still spring cold and the fish were not particularly eager to rise. Without all the distractions I might have worked to catch a fish on the surface. But in the name of simplicity I tied on a streamer. Haphazardly, I made a cast here and there. At one point I got snagged and broke off my bug. To keep my son's interest I let him pick the next fly. He choose a beadhead bugger with pink crystal flash and yellow legs, something akin to a JJ Special. To be perfectly honest it's not what I would have picked. I had no faith in it catching fish.
Valiantly, Matt was trying to catch fish on the surface. But it wasn't quite coming together. After he had worked some likely water I tossed in the bugger and managed to hook into a small brown. The boys got to admire the fish and all was well. Who's kidding, I was just as happy to catch a fish, maybe more so. The boys can be distracted by rocks, sticks and the like but for me it's pretty much just fish.
Within a few more casts, in the same pool, I hooked a much better fish.
As I'm playing the fish I ask Matt to be my net man. He obliges, and smoothly completes the task. In the hopes of getting a few nice pics I suggest Matt hand me the net/fish and I will hand him the new DSLR. But it turns out the net is permanently attached to his kid backpack with a bungee. Still we attempt the swap.
Because of the bungee I'm tied to the back of Matt with a short leash. Matt is nervous about the camera and he wouldn't know what to do with it even if he wasn't nervous. I unhook the fish and ditch the rod. As I go to lift the fish and get rid of the net, so Matt and I are no longer tied together, I fumble the fish. Flailing around in the water, on my knees, two year old on my back, I momentarily regain control of the fish only to lose it again. One of my labs licks my face and the other shoves it's face in the water to look for the fish. Once the fish is gone all we can do is laugh at how utterly ridiculous we must look.
Two grown men, with toddlers on their backs, and a couple of labs all splashing around in what was previously nice trout water.
In hindsight the solution is simple. Let Matt net the fish, have him hold the fish, I shoot a few photos. Stick to our jobs. A bit of buck fever and a desire to get some sort of hero shot had all of us, well mostly me, acting without all brain cells firing. Big picture I think it turned out perfectly!