Winter Fishing: With Kids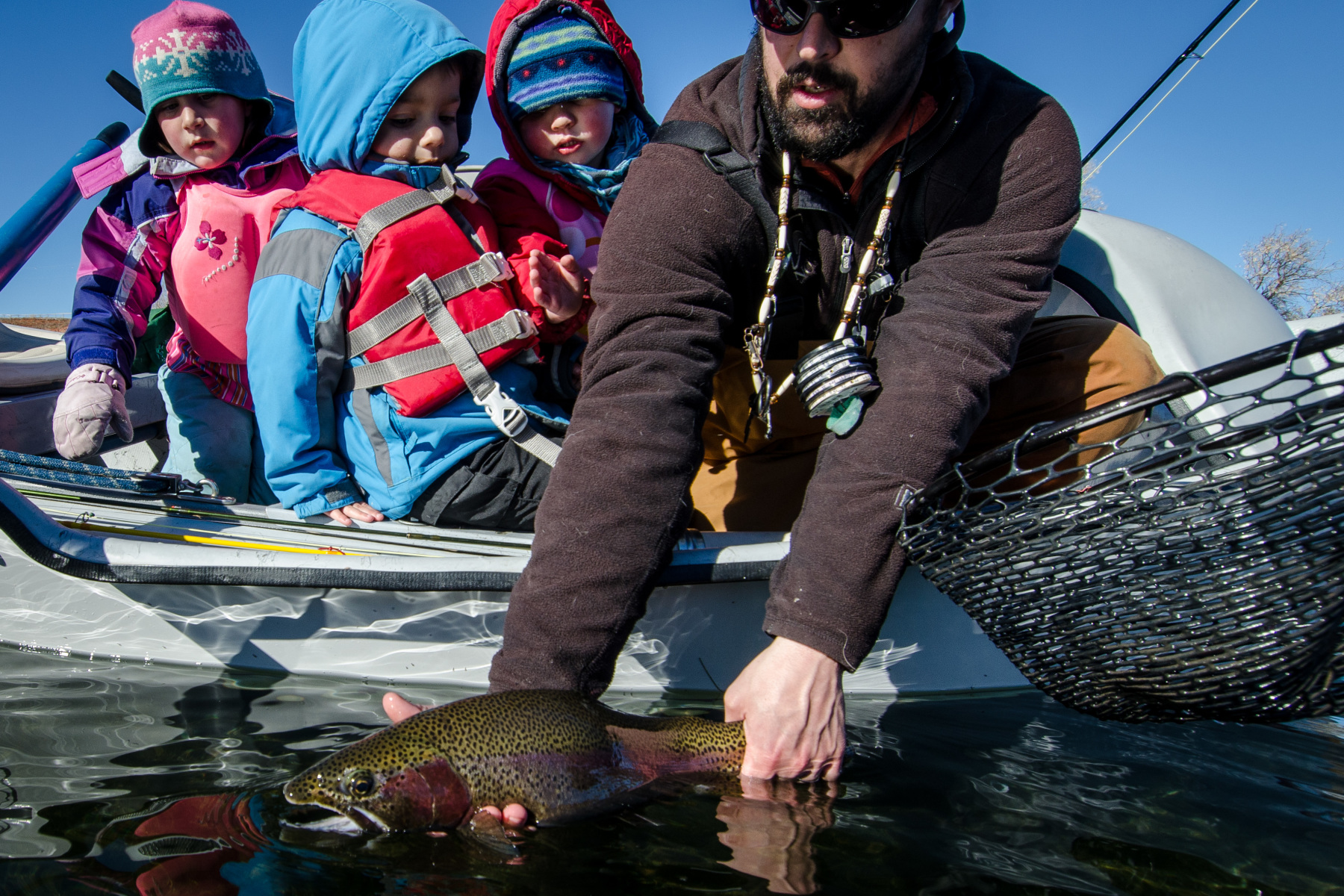 Being cooped up inside during the long winter months can begin to wear on the whole family. There are a host of tried and true winter activities but it's not always easy to get outside. Fishing, other than through ice, is not on most folks radar this time of year. Take this one step further and fishing with kids in the winter seems to be downright uncommon. With some planning and practice I've found that it can be a great time of year to get out on the water, with the whole family. We are fortunate to have a tailwater a little over an hour's drive away and, if we are brave enough, there is always open water to be had.
Weather – I keep a close eye on the weather in general, but I pay particular attention to the forecast if I'm heading out with the kids. When planning to be out all day, I prefer a forecast that's in the upper 30's to 40's, mostly sunny, with little wind. Believe it or not we get a few of these days between December and March in Wyoming. We go sledding or skiing when it's much colder but this is when I like to fish with the kids, any colder is a bit much for us. It's also worth noting that when the forecast is for a high of 38 it is well below that for most of the day, with only a few moments in mid to late afternoon that reach the high. Prepare for colder temps than you expect.
Clothing and Extra Clothing – This part is critical. Fishing is not an aerobic activity so kids need to be dressed to the nines. I dress the kids in long underwear, followed by fleace, then snow pants and jacket. I add waterproof snow boots, neck gaiter, hat and mittens to round out the outfit. Then I pack a bag with duplicates of everything. I've yet to have anyone fall completely in the water, but it seems like it's only a matter of time before that happens. I want to have dry clothes on hand. Often mittens or socks get wet and I've had to change them on several occasions.
Sleeping Bag – During the winter months I pack a sleeping bag in the boat or truck. I prefer an old synthetic bag that I don't mind being abused or getting wet. When the kids are cold I pull it out and wrap them up in it and have them sit tucked in the bow of the boat, out of the wind. It's a simple piece of gear that has come in handy more than once.
Bathroom Kit – Helping a toddler go to the bathroom, outside, in the winter is no picnic. Getting out of layers of clothing in time to avoid an accident takes practice. Speed tends to be motivated by circumstance. I pack baby wipes, trowel, and plastic bags to help dispose of everything appropriately.
Hot Chocolate (with marshmallows) – Without fail, this is the only item on the list that my kids remind me to pack. They love having a thermos full of hot chocolate in the boat. In addition to being a crowd pleaser, it also serves as a great way to keep them hydrated and puts calories into their bodies which keeps them warm.
Snacks – Being well fed is key to staying warm and helping everyone have a positive attitude. Regardless of the season, unless we are catching fish by the fistful my kids get bored quickly, eating seems to be one of the few things that can occupy their attention. In the winter we rarely catch droves of fish and the kids need food to keep warm. We pack cheese sticks, salami, yogurt sticks, crackers, candy, quesadillas and anything else that has a reasonable chance of actually being eaten.
Hot Springs –  Having a carrot at the end of the day is always good for morale. Fortunately for us our favorite tailwater also has a hot springs near by. If we time it right we can end a day on the water with a warm soak. This usually results in tuckered out kids and a nap during the car ride home.