The Birth of A Fishing Town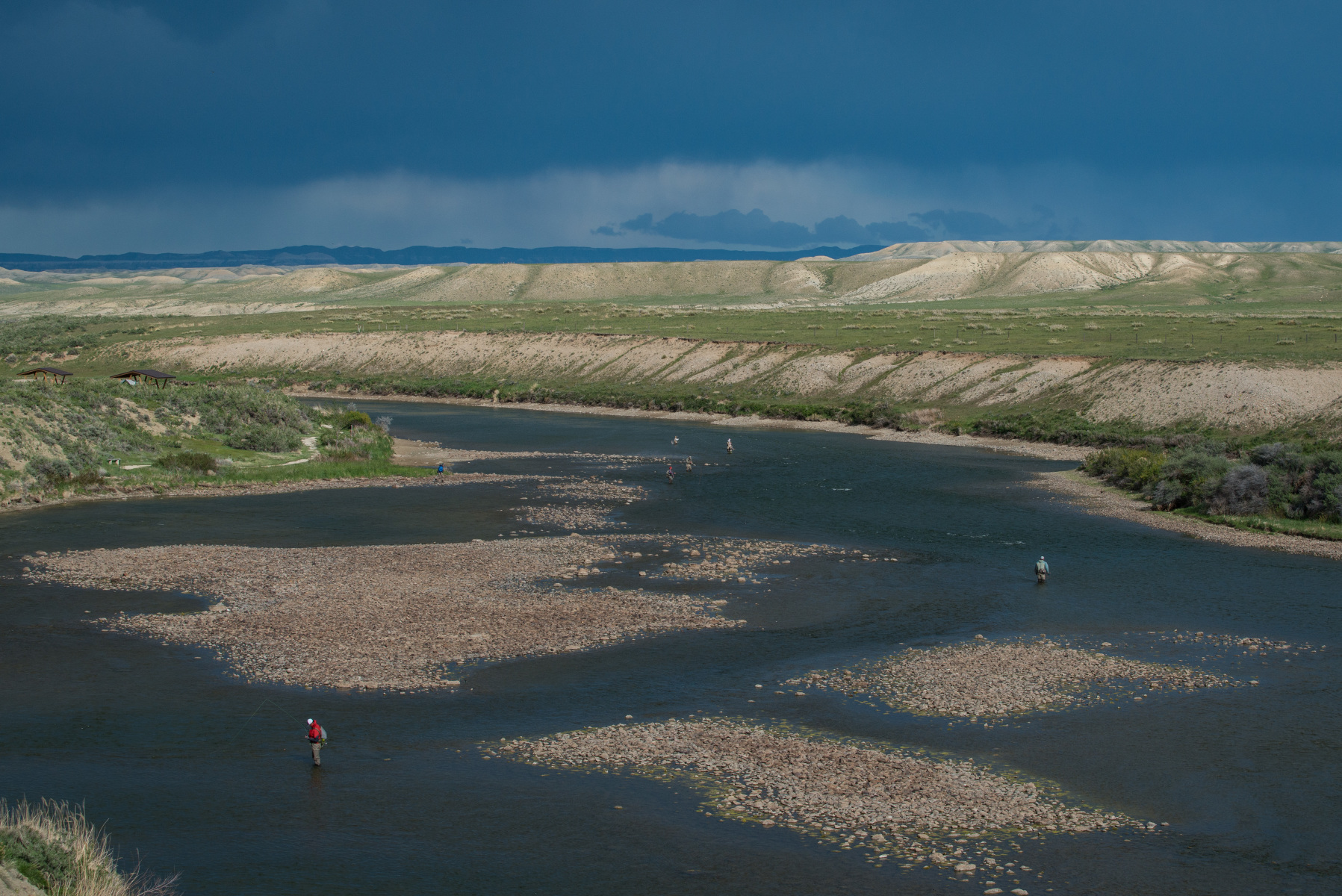 Trent Tatum, co-owner of The Reef Fly Shop and North Platte Lodge, is stork-stepping from the soft bank in the direction of a fading rise ring. His mission: demonstrate for the magazine writer and photographer, at their request, just how productive the fishing can be on his home water. It's an exercise in gilding the lily. Had we not already enjoyed a day marveling at the fishery, the half-dozen acrobatic rainbows greeting us with splashy takes at the confluence of Bear Creek and the North Platte River would have sufficed for evidence. But Trent likes to catch fish. "It's gradually gotten worse," he says of the addiction that started at age eight with his first fish on a fly. And it's always a pleasure to watch a gifted craftsman do what he does best, so we let it play out. Trout can be wily in calm water, but my money's on the fisherman.
Trent and his partner, Erik Aune, are among a dedicated community of entrepreneurial outdoor enthusiasts making a similar bet. The Casper area's North Platte River fishery – starting upstream and to the south with the Miracle Mile, and following the river North through Fremont Canyon and Gray Reef – has in recent years become synonymous with world class trout angling. And with good reason. The numbers are just plain gaudy: upwards of 4000 fish per mile, untold 10 pound bruisers in residence, 96 miles of Blue Ribbon stream and 365 days of fishable water each year. On the strength of these figures and their recent renown, new rental cabins are going in up and down the river, guide and retail staffs are expanding, outfitters are adding shops and lodges are adding beds. If the last five years are any indication, local businesses have placed a sound wager. By some estimates total fishing related revenues– guide fees, lodging, retail, gas, restaurants, etc. – top $6 million annually, a near doubling from five years ago. Luke Keil, owner of Wyoming Anglers guide service has seen that growth reflected in his young business. Having started at square one, client days have grown by at least 100 percent each of his first four years. Mark Boname, proprietor of the Platte River Fly Shop and founder of Wyoming Fly Fishing guide service, has a slightly longer perspective. When Mark first took up the oars in 1987, he was the only game in town. Last year, by way of contrast, 167 permitted guides worked for 21 different outfitters. Thirty to 40 of those guides made their livings exclusively on the river, supporting themselves and their families with rewarding work that they love. During the spring season, many outfitters even provide work for Jackson and Front Range area boat hands who would otherwise be sidelined by runoff. The word is out, and Casper has connected with hardcore anglers far and wide. But how? Why did Casper go from fishing zero to trout bum hero seemingly overnight? That is a story of an entirely different kind of connection.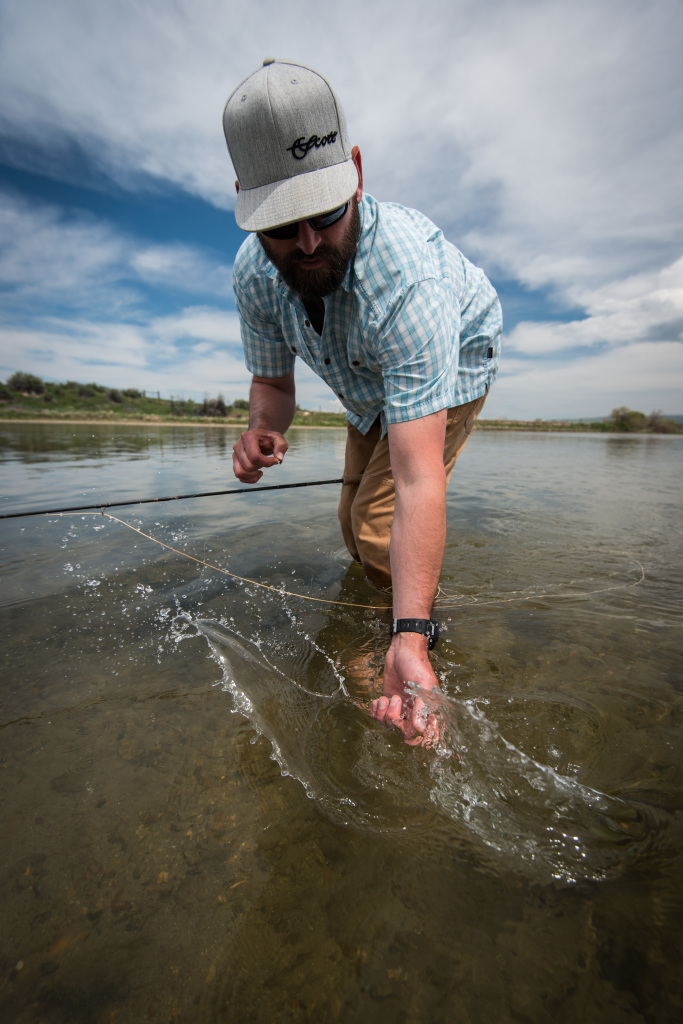 "In 1900 there wasn't a trout in the North Platte," says longtime Wyoming Game and Fish Department, Casper Regional Fisheries Supervisor Al Conder. "In terms of game fish up this far, there were sauger and channel cats, maybe some sturgeon." Then beginning in 1903 the Bureau of Reclamation (BOR) went on a 60 year construction spree, erecting seven dams up and downstream of Casper. With seven new tailwaters came the potential for a thriving coldwater fishery, but it would take an act of congress and two innovative collaborations for that potential to be realized. The 1970 Miracle Mile Act secured year-round minimum flows of 500 cubic feet per second (cfs) from the Kortes Dam, giving the act's namesake piece of river the water it needed to establish and maintain a healthy population of trophy brown trout and the North Platte was on its way to stardom. The innovations needed to help it turn the corner, however, wouldn't begin for another couple of decades with the arrival of John Lawson.
When John Lawson took the helm as Wyoming Area Manager for the BOR in 1989, Casper was still nobody's idea of a fishing destination. "I got here just in time for everything to go wrong," he says with an affable laugh. He'd inherited a disjointed system of hydrological engineering that was operated with vanishingly little consideration for fish. But experience accommodating the water needs of endangered whooping cranes downstream at Grande Island Nebraska had taught John that even the most tangled problems can be bested with the right people working in concert. "I'd learned from the crane stuff that long term benefits come to the resource from good collaborative working relationships. So one of my first acts on the job was to pick up the phone and call (then WGFD Regional Fisheries Supervisor) Bill Wichers, and ask him 'What do you guys need?'" That simple call initiated biannual interagency skull sessions that continue to this day, as do their benefits for fish and fishermen.
In 1993 the BOR, in its first major joint effort with WGFD, initiated flushing flows below Gray Reef Dam – giant surges of water released in the middle of the night to scour silt and debris from the river's gravel bottom and recharge prime spawning and food production habitat. "The introduction of those flushing flows was a total game changer," says Al Conder. "Within two years we saw a nearly fivefold jump in fish biomass. We were confident flushing would benefit those first 15 miles (below Gray Reef Dam), but now we're seeing improvements all the way to Glenrock."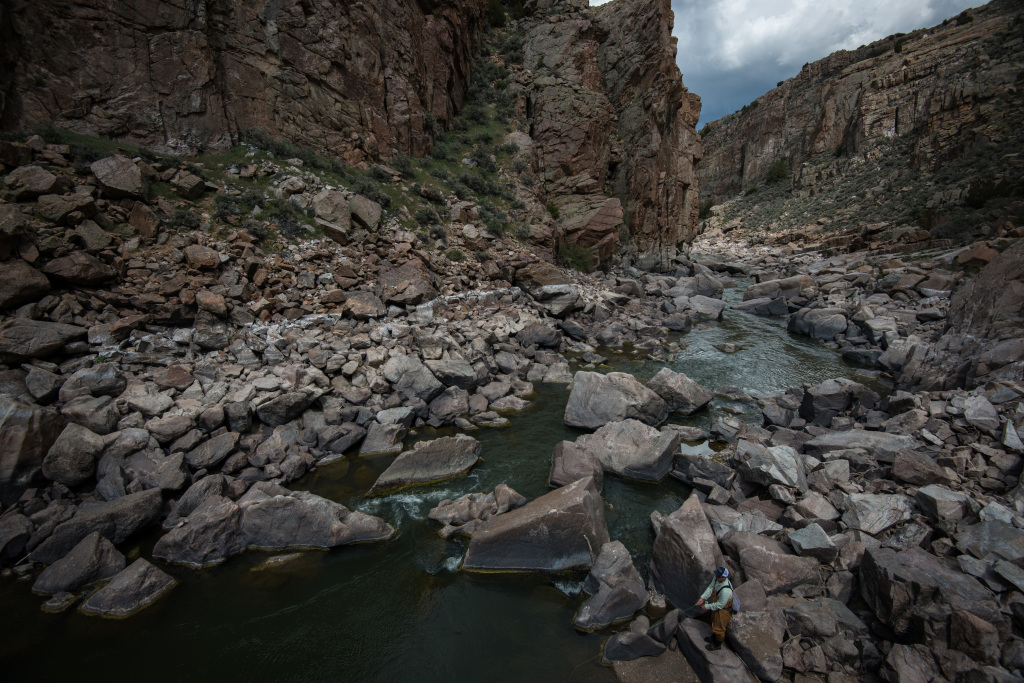 The next product of closer coordination was even more ambitious. Working with a broad coalition – including Wyoming Fly Casters, the U.S. Fish and Wildlife Service, Ducks Unlimited, The Conservation Fund, and Cardwell Ranch – the BOR and WGFD set their sights on rewatering Fremont Canyon. It took years of engineering, legal and regulatory wrangling, but the diverse group of stakeholders eventually modified Pathfinder Dam, existing water allocations and the stream bed itself, to guarantee a year-round 75 cfs flow for what can be fairly described as the North Platte's prettiest three miles. The coalition then secured public access easements for the stretch, cementing the benefits of their work for future anglers. "When we turned the water back on in 2002," says John Lawson, "the river was connected again from Colorado to Guernsey". And another stretch of blue ribbon water sprang to life.
They did not labor alone. While the BOR and WGFD were busy stitching the river back together, the Bureau of Land Management (BLM) hustled to ensure the recreating public could connect with the newfound bounty. Through the purchase of 960 acres, and the acquisition of easements for another 156, the BLM secured more than six miles of river frontage and priceless access for the angling public. They then improved the utility of that frontage with campgrounds, day use areas, boat ramps and access roads.
But if you build it will they come? Recognizing the immense economic potential of their river – a river once maligned by locals and ignored by everyone else – the Casper Area Convention and Visitor's Bureau set out to make sure they would. "We had a great story to tell. Big fat fish and lots of them. Add to that wide open country, where it's not elbow to elbow anglers, and we felt like we could move the needle," says Visit Casper CEO Aaron McCreight. He was right. Targeted print and television ad campaigns, including spots on Monday Night Football and in the Major League Baseball World Series program, combined with the promotional efforts of individual businesses, quickly ushered in a 31% jump in business.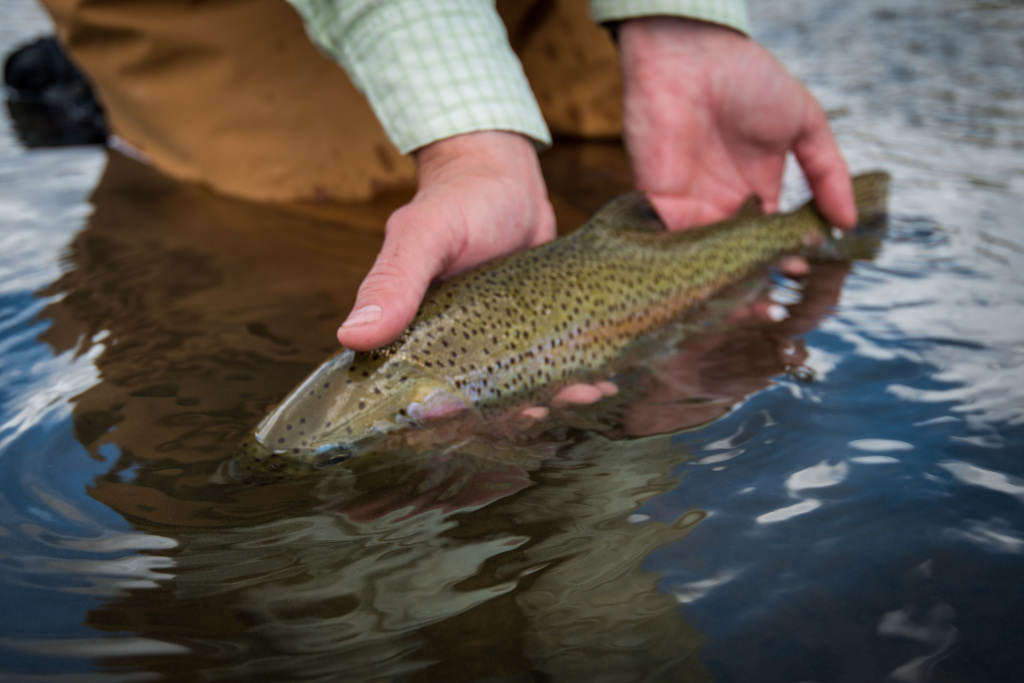 "Making the river available to everyone?" says Erik Aune back at Bear Creek, referring to the sprawling public private partnership that improved the fishery, provided access and shared it with the world. "It's a great concept."
Calf deep now in the cold river, Trent's completed his prelude of silky false casts and is ready to start the show in earnest. Erik and I, looking on from the sunny bank, continue our conversation in respectful golf whispers.
"You know," I say, "I haven't seen a boat since we got here."
"Plus the wind's not blowing and we're fishing dry flies. That's three popular misconceptions about our river, shot down once again," observes Erik.
Trent, who'd been statue still and laser focused, suddenly springs to life, raising his rod tip with a dignified hoot, and pulling tight to the afternoon's first fish… Just one more North Platte connection.
*originally appeared in the July 2014 issue of Wyoming Wildlife Magazine. Support smart wildlife journalism by showing them some Facebook love here.