The Best Scotch Bar in America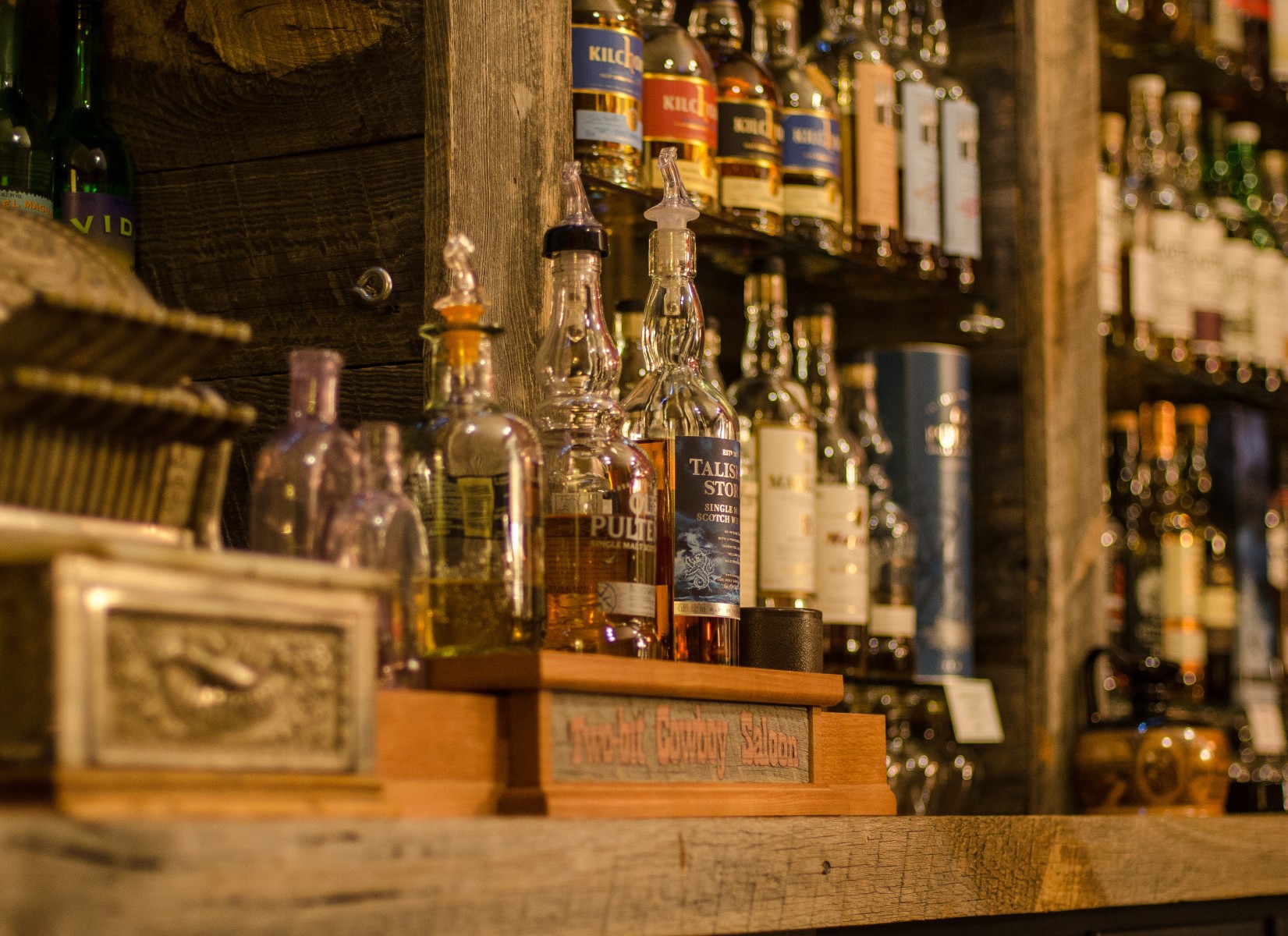 I didn't waste time surveying the scene on the way in. Twilight was darkening to evening, the wind was picking up and the temperature was falling fast on the high divide. That the Miner's Delight Inn offered shelter was all I needed to know before hurrying inside. But with damp layers hung by the blazing fire, and bones thawing in the orange glow, I finally took note of my surroundings – hand hewn timber walls, odd width plank floors, granite fireplace, furs, leather, all those bottles – and I started to wonder just where we were.
"You look like two fellas that could use a drink," said the stout proprietor through his generous grey horse shoe mustache. He was shaking Steven's hand and tipping a welcoming nod my way. "Perhaps a wee dram from Scotland's Speyside to drive out the chill?"
We were a long way from Scotland, I knew that much. Hell, we were a long way from anywhere, unless you count ghost towns and sagebrush. At least I thought we were, but that bar… We'd started the day in Wyoming, I'm certain of that. The Sweetwater River, gin clear and frigid where it tumbled from the southern Wind River Range, had proven difficult but rewarding – "technical" if you're a fashionable angler like my partner; slow, cold and confounding if you're a hack like me. But we'd had the river and the humbling views all to ourselves, a fair trade in my book.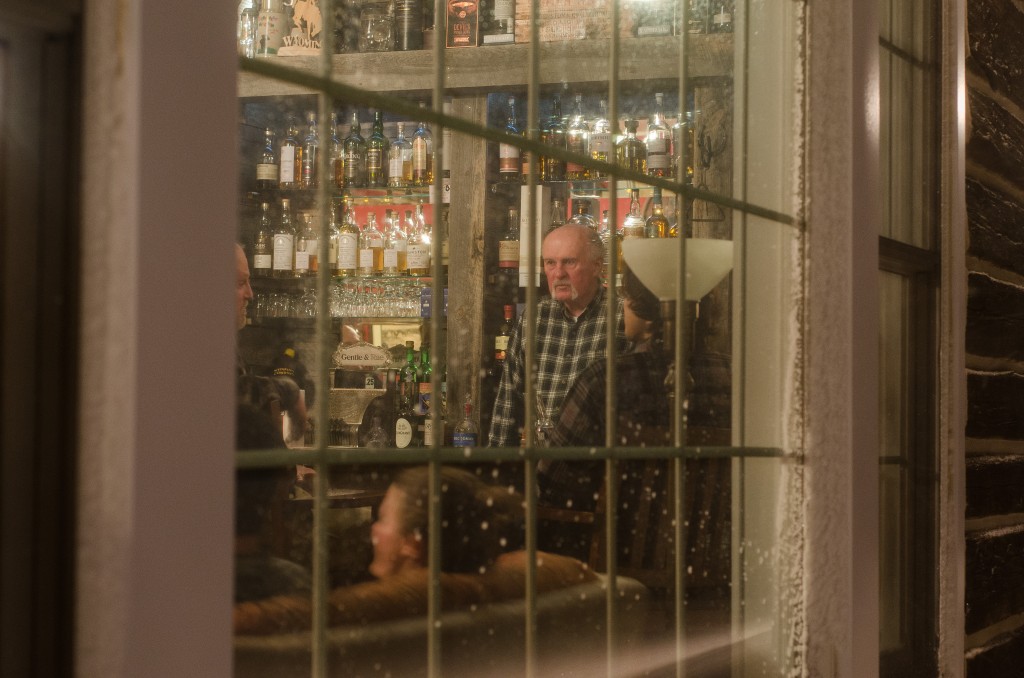 "Is that cask strength Bob?," asked Steven after a demure peck at his whiskey "The punch is balanced nicely by the black cherry notes and sherry cask sweetness."
"Uh huh" I said, tossing mine back, eying my fishing buddy suspiciously. When he'd suggested we hit the Scotch tasting on the way home, I'd assumed he had a pint of Cutty Sark in the glove box. Hadn't he been gulping Coors most of the day? Now he's talking about stone fruits. Who the hell is this guy I wondered, and where has he been hiding the tweed? Then the Aberlour A'bunadh spread its warm roots through my chest, and I realized I no longer cared. Well I'll be damned I thought, cherry notes.
Had I paid closer attention to our approach, I'd have found my circumstances even less explicable. We were in Atlantic City… and I don't mean New Jersey. This Wyoming iteration was named not for its ocean-side locale, but rather for its orientation to the nearby continental divide. That was 136 years ago, when the town was a real going concern among a different type of gambler, gold miners. Back then it had a respectable collection of saloons, brothels, merchants, a school and a booming population of 2000 souls. Now the wind-scoured village holds fewer than 50 year round residents and boasts little more than elbow room. The 100 mile long spine of The Winds extends northward from the edge of town and 10,000 square miles of rolling sagebrush sea spread in every other direction. The closest viable town is 45 minutes away when the roads are passable, which is never a gimme. Folks coming from the nearest city, Salt Lake, could make it in four hours, provided they didn't rely on an in-dash GPS, and drove a suitable dirt road vehicle. I can be forgiven, I think, for not expecting a finely curated collection of single malt scotch whiskeys, or the resident expert who'd assembled it.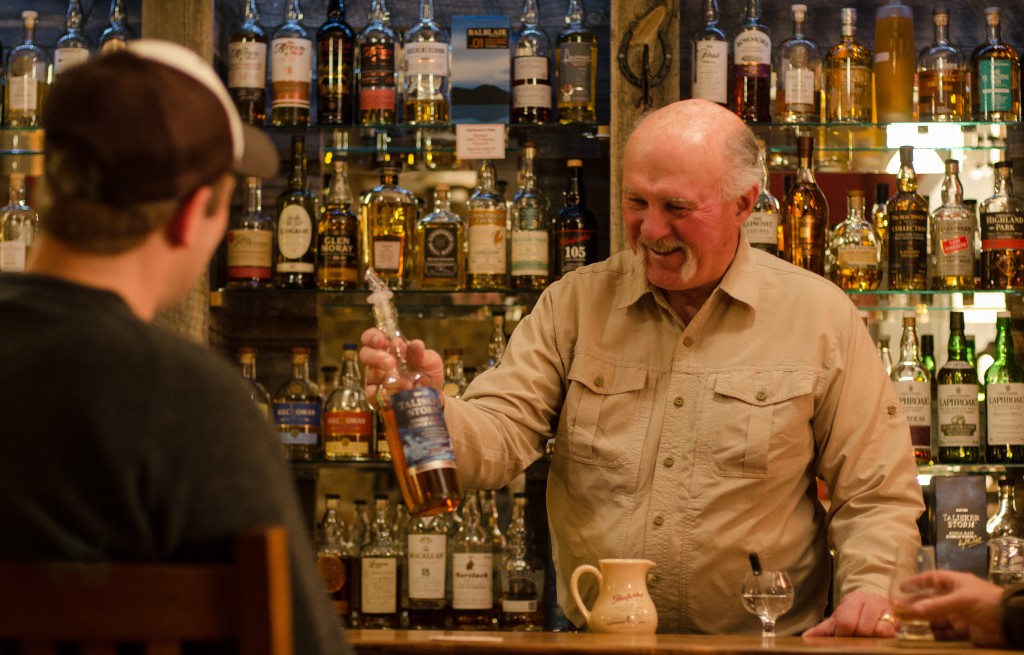 "Pardon me, Bob?" I piped up, amicable in the bosom of Speyside's finest, but still trying to take stock of the situation "but just how many varieties do you have here?"
"Well that depends on what you mean by variety," he said, bending his elbows to the bar and settling into the first of what would be many entertaining lessons that night. "We have 57 distilleries represented at the moment, and 85 or 86 different expressions. "
"Got it… Actually, uh…I mean…Can you dumb that down for me?" I bumbled.
"Think of Ford as a distiller, and the 1994 F250 as an expression," answered Bob.
"Bob personally selected each one," added Steven.
"Yeah right," I said looking to Steven for the punch-line.
He just grinned, all teeth and smiling eyes, and slowly shook his head. No, Bob does not joke about scotch.
"Are you ready for your next pour then?" asked Bob, Mid-American modesty and hospitality masking his justified pride. "This is our first Highland Whisky of the night – Ardmore Traditional Cask. The expression is named for the smaller gauge barrels in which it's aged. Centuries ago, when materials were carried in, and product carried out on pack animals, casks were much smaller. Smaller casks mean more surface area and thus more evaporation during aging. I think you'll find it gives the whisky a certain… well, let me know what you think."
"Yes please" I said, just hoping not to further betray my ignorance or, heaven forbid, interrupt his pour.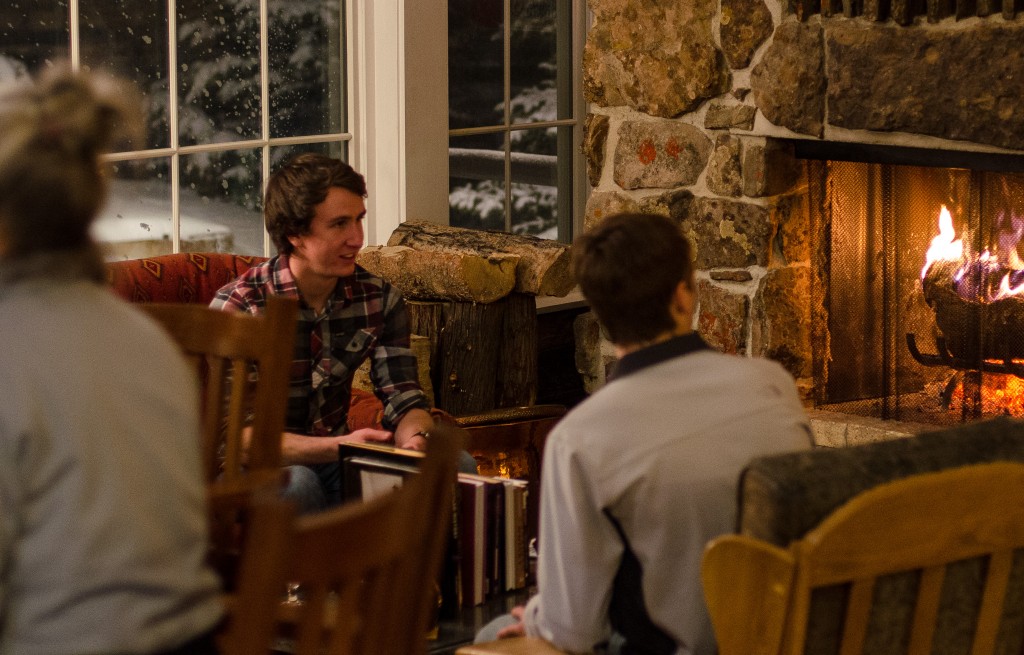 Bob hadn't just selected each bottle in the place I came to learn – at times personally tracking down the distiller and making exclusive import arrangements – he'd also crafted a progressive five-pour tasting for the night. The first had salved an ego bruised by the day's many fruitless drifts. This second made the few landed fish nobler in my memory. They'd grown so proud in fact, that I was inspired to share tales of their bravery and girth with my fellow patrons, and would have had they not been saved by the piano.
"Is that… Is he playing a Scottish folk song?" I asked looking over my shoulder in disbelief to the upright in the corner.
"John," explained Bob. "He lives up the hill. Fine hand with a tune. And he probably knows more about the Red Desert than any man alive. Ask him about his North American Ape research when you get a chance." Then a woman seated by the fire stood, took a deep breath, and joined her voice with the piano in a haunting, mournful ballad. "Music professor from Laramie," whispered Bob, leaning in. "She comes to visit every now and then."
"Are you shitting me?" I asked, looking back to Steven. He beamed the same self-satisfied grin, this time with a slow nod.
I gave myself over to the flickering of firelight, the warm glow of scotch and the intoxicating music for some time. How long? I don't know, but a soft spring snow had begun to fall outside before Bob, ever the gracious host, interrupted my reverie.
"Arran's original Master Distiller was lost to us early last year," said Bob, bowing his head and pouring me another. "Mr. Mitchell left a mighty fine legacy. Enjoy."
"I'm sure I will Bob" I said, no longer concerned with deciphering the place. "I'm sure I will".
*****
I've since been back… many times. Had I not, I'm not sure I'd believe the place existed. I assure you, it does. You can go too. Tastings are held the first Friday and second Saturday of every month. Bed and Breakfast accommodations are also available. If you're passing through some other day, call ahead and Bob will put something together for you.
The Miners Delight Inn
Atlantic City, Wyoming
(307)332-0248
http://www.minersdelightinn.com/
*****
Regular STS readers will no doubt recognize Bob and his world-class establishment from previous posts. For those who don't, suffice it to say the he's made a remarkable and lasting impact on our collective palettes. The story above is a fictionalized compilation of a few actual visits written for the spring 2014 issue of The Drake Magazine.