The Real Deal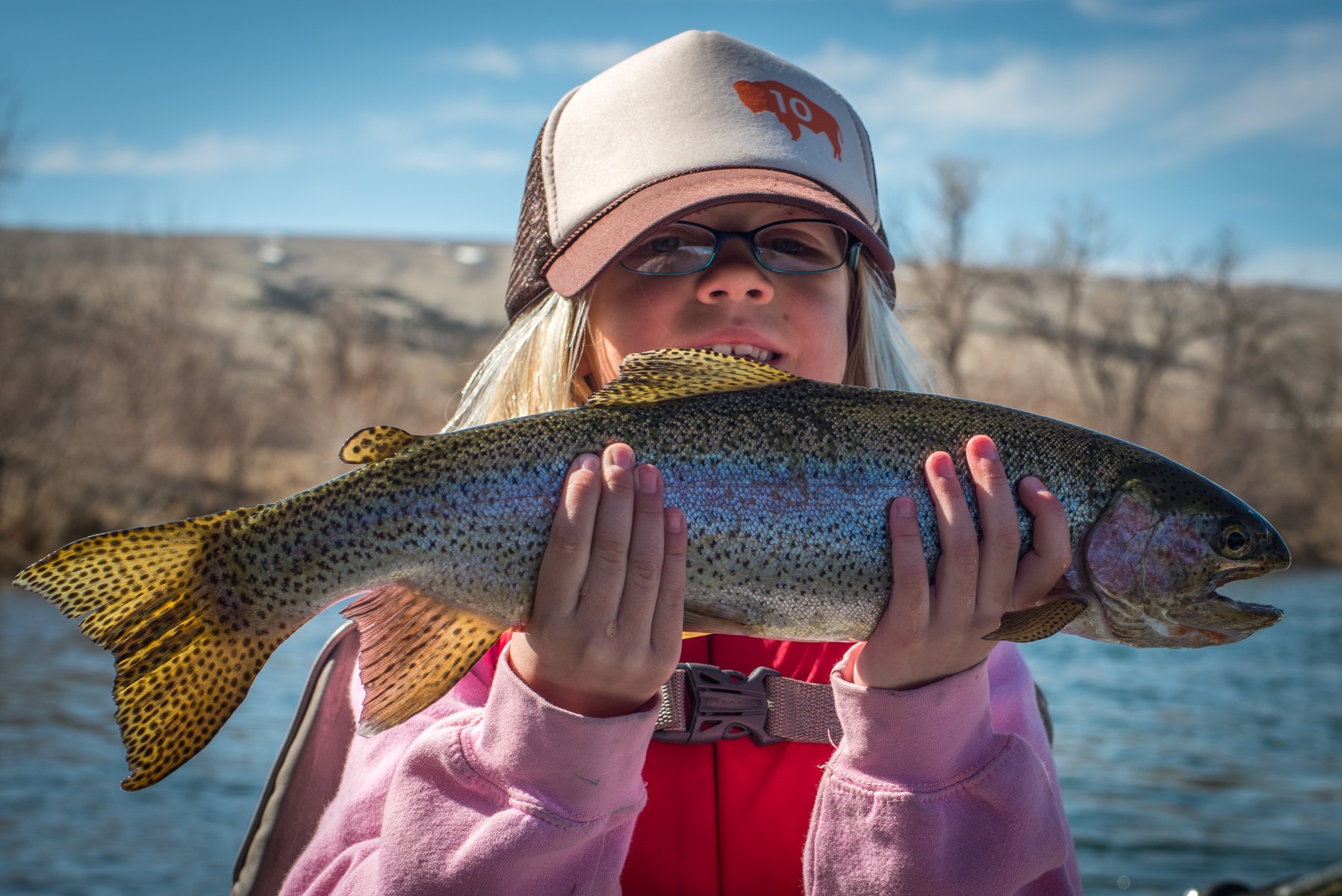 Blonde hair juts out like straw from underneath a truckers hat. The hat is pulled down tight and underneath a pair of eyes peer intently at the water from behind a pair of dark rimmed glasses. "Hit it" comes a voice from the rower's seat, as the rod simultaneously thrust towards the sky coming tight with yet another rainbow.
Jeramie Prine, owner of Dunoir Fishing Adventures, and his kids had been fishing for eight days straight. They called it "Fishing Safari", their version of a spring break trip. Mom had to work so they decided to camp on the banks of the Big Horn. Only a little over an hour from their home they were going to spend the week fishing. By the time Matt, our boys and I showed up to join them for the day, they were a well oiled machine.
Eight year old Meesha, proceeded to soundly out fish us all day. Every time I looked toward their boat she was tight with another fish. While we were changing patterns she was catching fish. While we were untangling knots she was catching fish. Fishing isn't necessarily about numbers but when the sun sets and you've brought maybe three fish to hand compared to thirty that were caught by the eight year old fishing in the boat next to you, on what you consider one of your home waters, you can't help but take notice.
Sure, the flows were up and the fish were holding in different spots than when I had last been out. But this was downright impressive. Jeremy would make a cast, set the drift and get Meesha into position, from there she handled the rest. Taj, age five, provided guidance from the back seat and was quick to help reel in a fish or grab the net. It would also be foolish to underestimate the abilities of the man on the oars.
When it comes to getting after it with kids I have worked hard to set the bar high. But the Prine clan showed us another level. Their raw competence speaks volumes. But moreover, what parent, goes solo with two kids (ages 5 and 8), camps and fishes for eight days running, and has everyone smiling through to the end? I don't know many.