Behind the Scenes with: Rob Yaskovic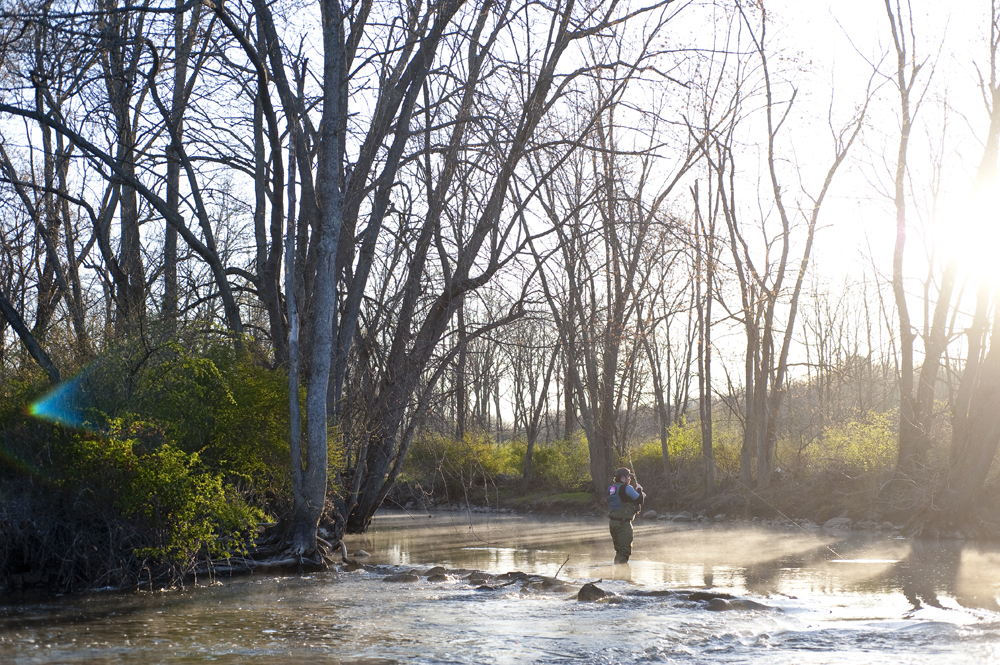 As a father of four, passionate angler, and incredibly talented photographer, Rob Yaskovic is the kind of guy we admire. He gets big points for raising four children. But it's Rob's creative vision behind the lens that first captured our attention. Photography has been Rob's passion since he was a teenager and he has honed his craft ever since. Based in New Jersey his resume is impressive, including shoots with celebrities and politicians, work in the New York Times, and images in pretty much any fishing rag you want to read. Rob was generous enough to answer a few questions and share his work with us. We hope you enjoy it as much as we do:
STS: It sounds like photography is your passion and your profession, can you give us some background on how that evolved. Where does fishing fit in? How did you make the leap from wedding and portrait photography to shooting fishing?
Rob: I worked at a camera shop when I was 19 going to community college part time. The camera shop had a great owner who allowed us a free roll of processing a week. Back then I shot quite a few rolls of 36 exposures every week. I had set up a darkroom in the basement of the store and Garry, the owner would let me stay late and work in the darkroom. I went to work as a staff photographer for the New Jersey Herald to replace a lady on maternity leave and ended up staying for 5 years.
I never wanted to be a wedding photographer. Every wedding photographer I saw or met was angry, sweating profusely, wearing a tux that was too small and had TONS of equipment. But that changed when I learned I could do it my way. Relaxed, having fun, one camera a few lenses and brides and grooms that were just as laid back.
There was no leap to fishing photography. I love making photos. I always have a camera with me. At first it was my iPhone 3Gs then I started to receive some recognition for what I was doing with that cell phone. The Nikon came along right behind it. With almost anything I am into, my camera finds its way. Early on Cameron Mortenson from The Fiberglass Manifesto, Dave Imbach from Lo Fi Fly, and my buddy Eric Hornung from Anti Hero Electric Tattoo helped with tons of support. Then came a little write up on Le Mouching, then a feature in This is Fly, then I get an email from Copi Vojta at The Fly Fish Journal and its just exploded.
STS: You shoot a wide range of events and your work has been published all over the place. What have you learned photographing in those environments that help you when you shoot on the water?
Rob: I have photographed people from Alan Greenspan to Jon Bon Jovi. I was in NYC a few times in the days after September 11th photographing volunteers and I've spent hours with a brides and grooms who look their best having the time of their lives. Snowboarding, skateboarding, basketball, football, soccer, hockey, wrestling, track and field, tennis and even golf, I've shot it. Everything I shoot helps me in everything else I shoot. Being a sports photographer helps you anticipate with weddings, taking great portraits helps you see the character in a fisherman. Shooting flyfishing just really allows me to have everything come together in way that is exciting and relaxing at the same time. Looking for an angle that I had never thought of, keeping it new to me, and the fact that you are in a beautiful place… I'm just very grateful.
STS: Tell us about your family. How do you manage work, family, and personal time, where do they intersect? Are your kids interested in photography or fishing?
Rob: I couldn't have done any of this without my wife Kate. I picked up an issue of TFFJ a few years ago and said to her I want to be in this magazine, she said then do it. Very few people in my life have had that positive of an attitude and thankfully it has rubbed off on me. We have adopted four children, Gwen 11 Meredith 10 Jake 8 and Margaux 2, who are the coolest people I know and who frequently will put up with me saying, "hey stop there, the light is awesome I want to take your photo!" All of my kids have expressed some interest in photography with Gwen doing the most and I take my kids fishing in the summer as often as I can with Meredith loving casting the flyrod and pulling in fish. My son Jake loves it if they are biting but if not well, where's the playground? Margaux last year accompanied me on a few outings strapped to my back either saying what I thought was "feeshy," screaming or napping peacefully.
STS: Ok, this is shameless, but my brother lives in New Jersey now and he has had a hard time getting his fishing groove on since moving back east. All I hear about is awesome striper fishing, but how would you recommend that a westerner adapt to east coast fishing?
Rob: Your brother should send me an email, we will figure something out! The striper fishing is great if you can devote the time to it. It's always a classic tale of, "shoulda been here yesterday." There are great guides for trout on the upper Delaware River in NY, great guides for Stripers in NJ and NY and inbetween I have old high school buddies who are guides that will put you in a farm pond catching 2 pound bass on topwater until your thumb bleeds. I've never fished out west so I have nothing to compare it to.
STS: We saw that your Spaghettio's fish series was selected to promote this years Surface Film. Tell us a little about Surface Film, what attracted you to it and the inspiration for that fun project?
Rob: The Surface Film show was just so awesome. I got a call one night and this guy who says "Hi this is Tim Romano, I am a…" I cut him off and said, "I know who you are…" kind of an awkward silence… then he explained he wanted the Spaghettios for the show and to promote it. I was blown away and I still am. The photos were a joke at first, I was feeding my youngest some Spaghettios and saw OUT next to each other. I searched for TR, took an iPhone photo of it, put it on Instagram and it was a hit. I had people asking for other fish, which I did when I had a can open. One day Copi from The Fly Fish Journal asks if he can use them all for the Tailout Section of the magazine, which he did and Tim later told me he loved them and wanted them for Surface Film. I flew out to Denver for the show, I got to meet a whole bunch of great people and Russ Schnitzer (who put me up for the 38hrs while I was there) and I had some great conversations about photography, art and why this industry is so great to be a part of.
STS: What's on the horizon, any cool projects you would be willing to share with us?
Rob: I have done some articles with Pete McDonald for The Drake magazine recently and we are getting excited to do more this spring and summer, I got to meet Joan Wulff at the end of December and photograph her for an upcoming article that I am psyched about but I am mostly looking forward to spending time with my wife and kids and getting to fish as much as I can.
Rob was also kind enough to share a few of his images and the story behind them, enjoy:
Hornung– My buddy Eric invites me each year to the opening day of Trout Season with his brother and brother in law. It usually coincides with other things and I rarely get to go. This morning though I did and we had to get there early before it gets mobbed and the crazies literally keep every fish they catch. Stephan, Eric's brother was the first to hook up in the early light and we took turns guarding our area and catching holdovers that the onlookers later killed.
Marrero– My childhood friend, Tito Marrero, is a guide on the Upper Delaware in NY and PA and guides on some local streams and ponds here in NJ. One night he calls me and wants to know if I want to hit a farm pond he has permission to fish. Within an hour we were doubling up 2lb largemouths and not wanting to leave. As the moon showed up on the horizon and it was getting harder to see we had to pack it in.
McDonald– Pete McDonald and I had this idea to fish Central Park and do a story on it. Tom Bie at The Drake told Pete to go for it and we set a date. The night before, there was a news story that there were Snakeheads at the Harlem Meer, a northern pond in Central Park. There were people everywhere trying to catch one. None came to fruition and we worked our way all around Central Park, missing chances at carp because teenagers were making out and landing a bunch of feisty bluegills while New Yorkers stopped and watched.