STS Bar & Grill: Elk Toterole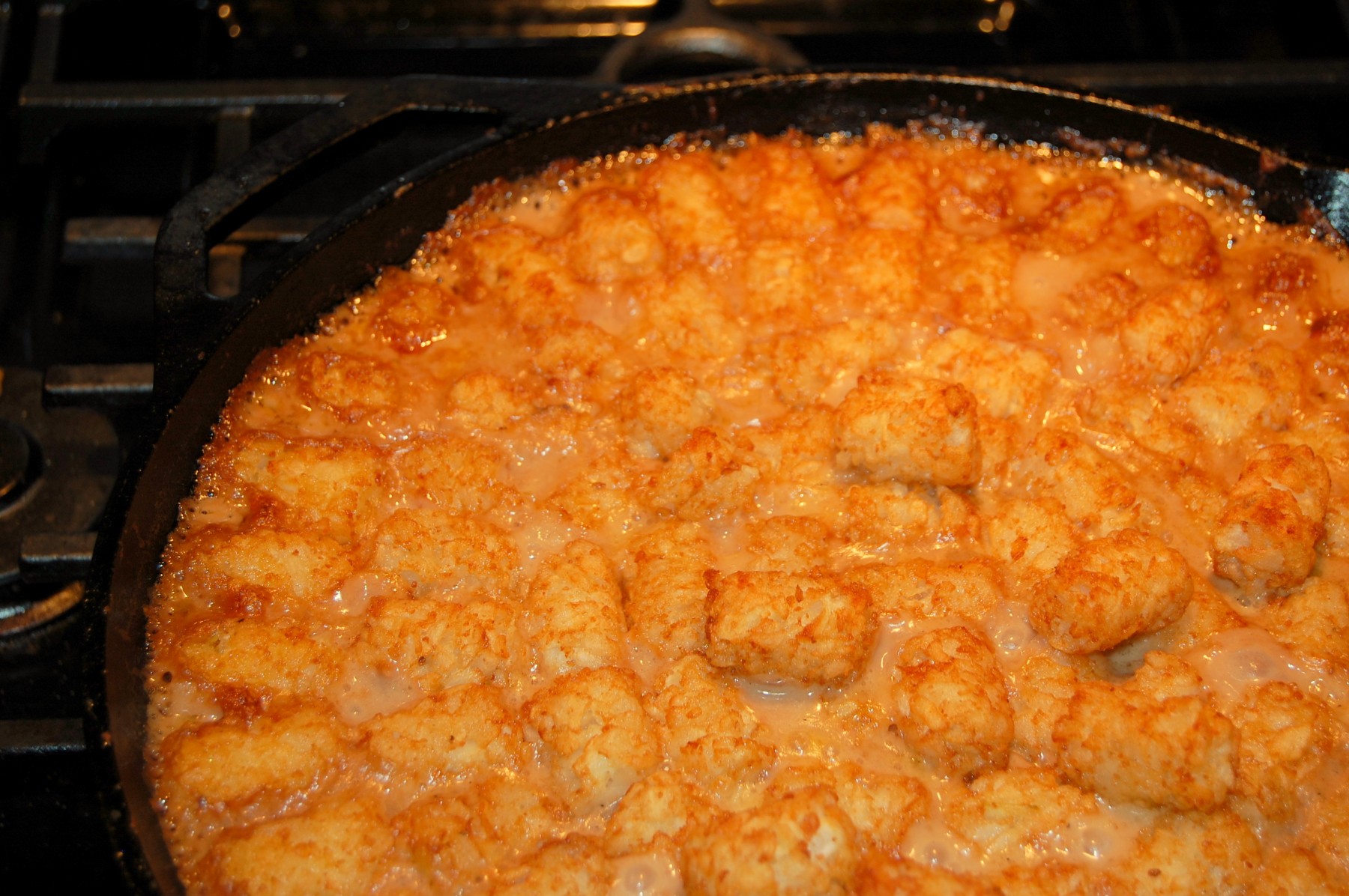 It's cold out there. After a long day in the duck blind your fingers are frozen, your nose is nippy and your cheeks are cherry red. A salad just aint gonna cut it. You need something hot, hearty and wholesome. Step on in to the STS Bar and Grill where the woodstove is cranking and we're serving up heaping plates of Elk Toterole.
What you'll need…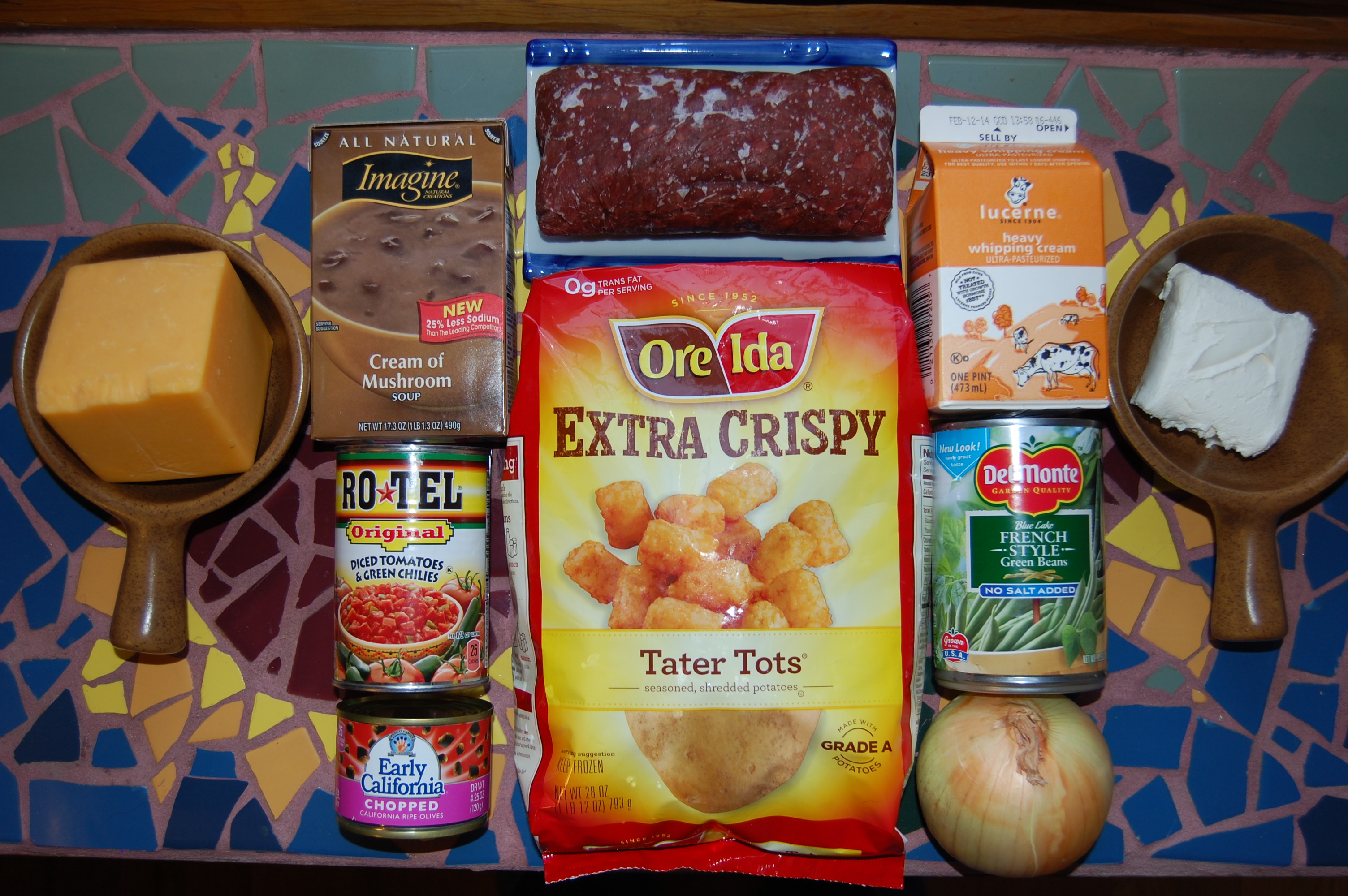 1# Ground Elk – you could pull it off with deer or antelope, but toterole is best with elk.
1 bag Tater Tots – extra crispy if they're available.
1 medium Onion
1 can Ro-Tel Tomatoes – they make a mild version too if you or your little ones are spice shy.
1 small can Chopped Black Olives – you won't taste olives in the final dish, but they add some real depth of flavor.
1 can French Cut Green Beans
6 oz Cheddar Cheese– about 2-cups when shredded.  Of course a little more wouldn't hurt anybody.
2 oz Cream Cheese
1 & 1/2 cups Cream of Mushroom Soup – you can substitute 1 can of condensed cream of mushroom if that's what you have the pantry.
3/4 cup Heavy Cream – give or take… don't be shy.
Butter – in the neighborhood of half a stick.
Salt and pepper
Step 1: Chop your onion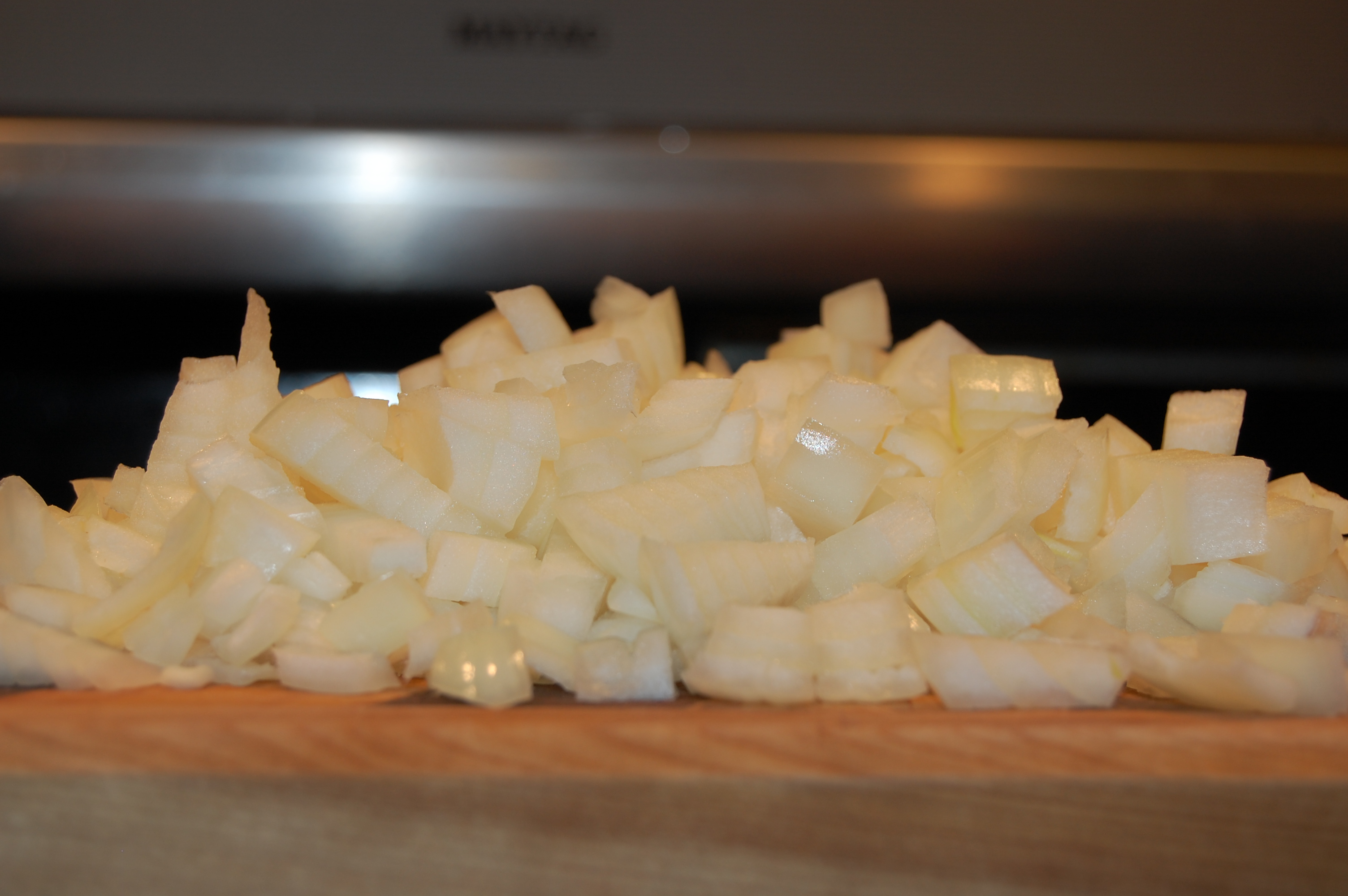 Step 2: Grate the cheddar.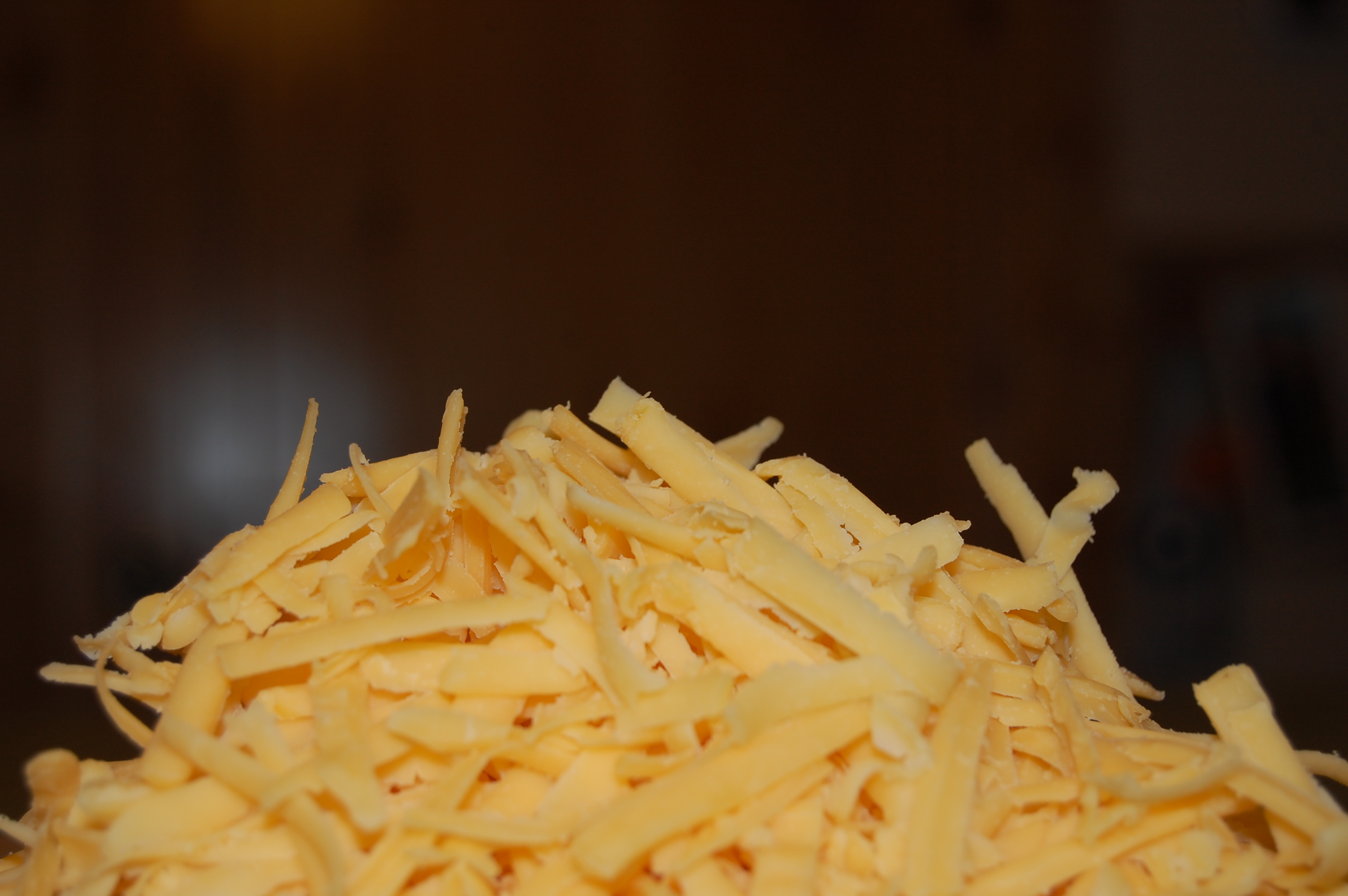 Step 3: Melt the  butter in a large, cast-iron skillet or other heavy bottomed, oven-safe pan, over a high flame.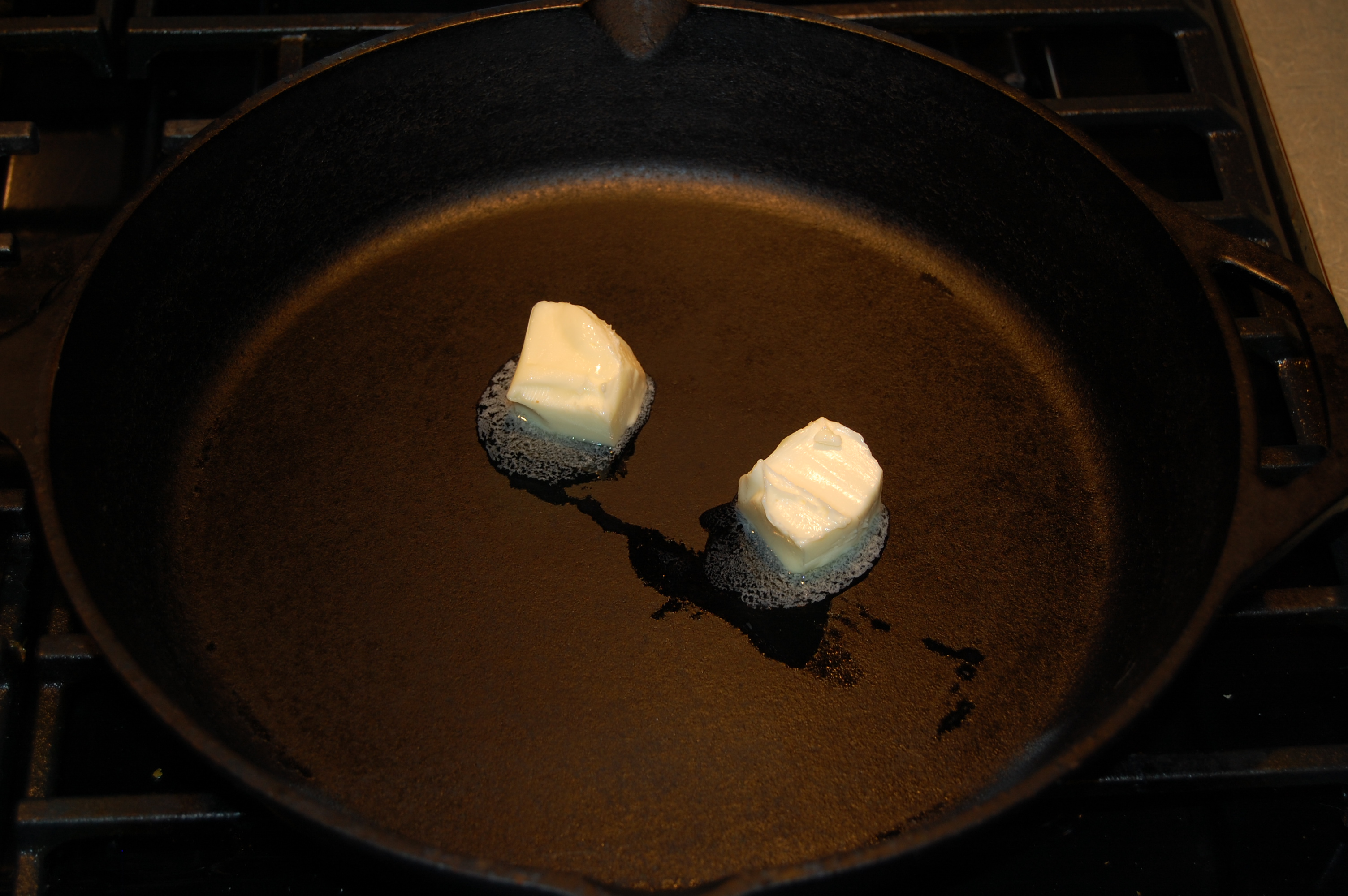 Step 4: When the butter begins to bubble and foam, but hasn't yet started to brown, toss in the onions and sauté until they begin to soften.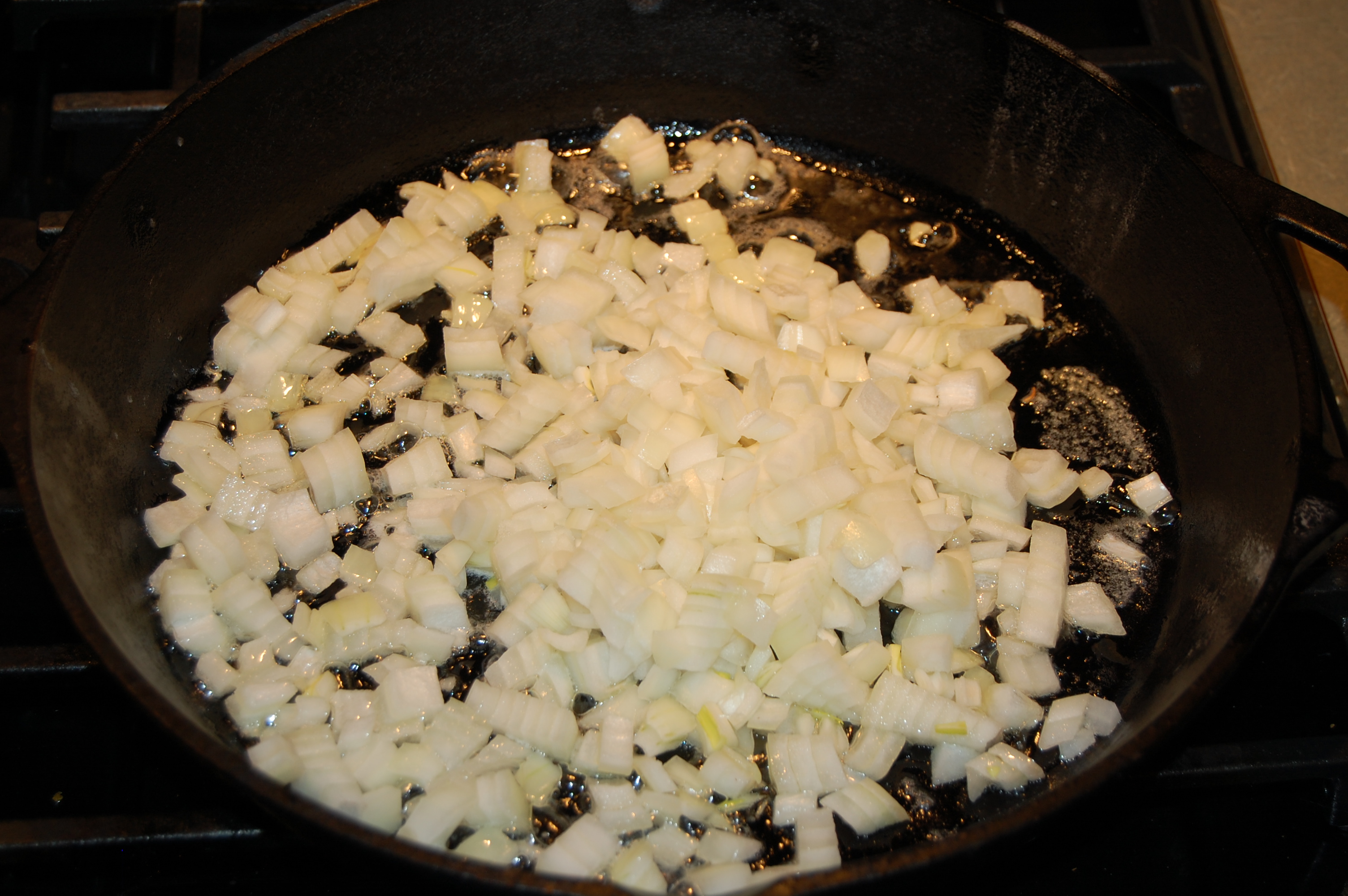 Step 5: Get the elk in there. Poke, prod and stir aggressively with a spatula or wooden spoon to break-up any large chunks and reduce the meat to the smallest pieces possible. Continue until the last bits of pink are just about to disappear. Remove pan from the heat.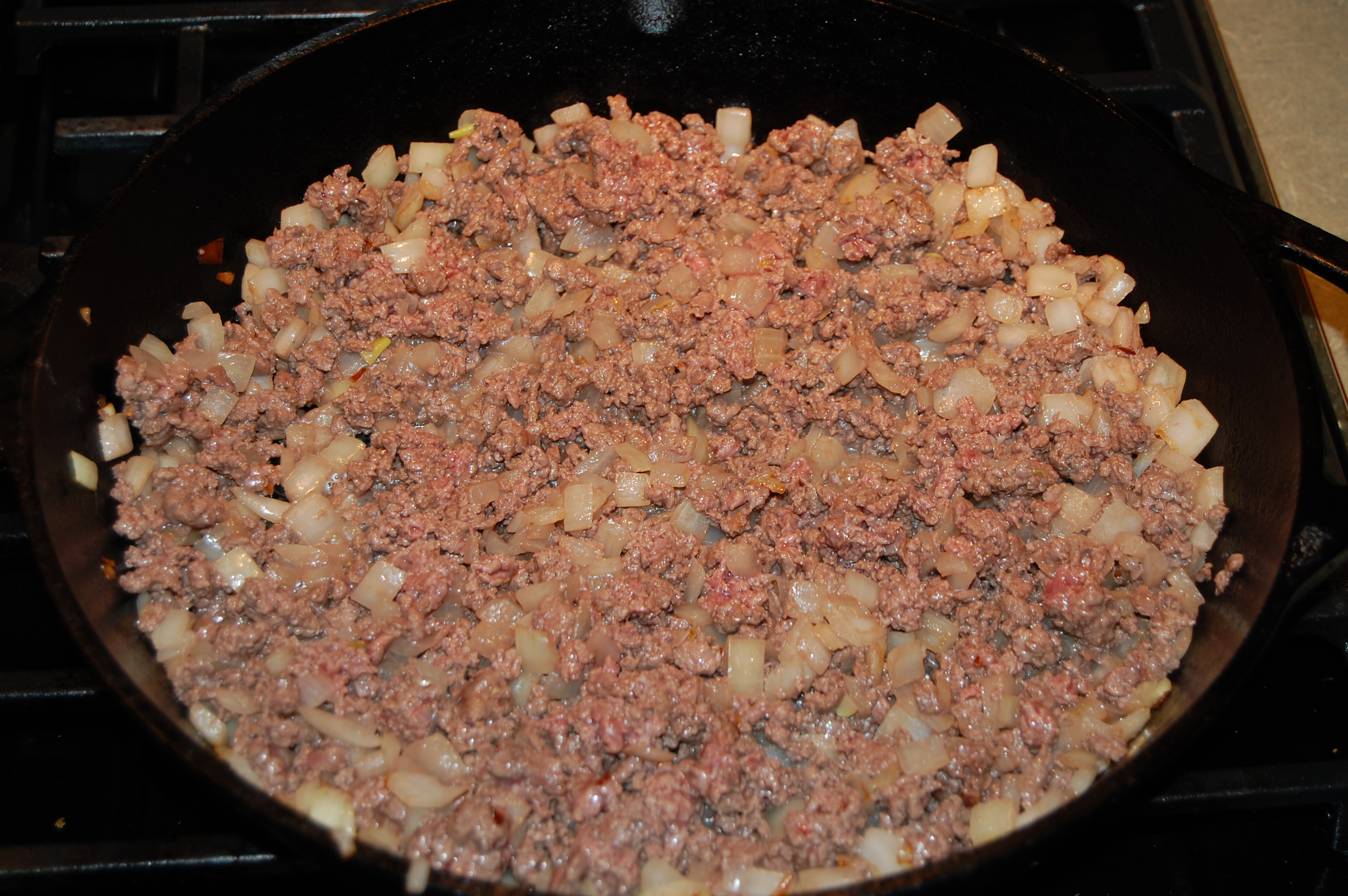 (I no longer add any fat to my game when I grind and package it. If you do, you'll want to drain off any accumulated grease before…)
Step 6: Pour in the cream. Stir to combine. Put it back on the flame, lower and slower this time, and let it bubble until thickened.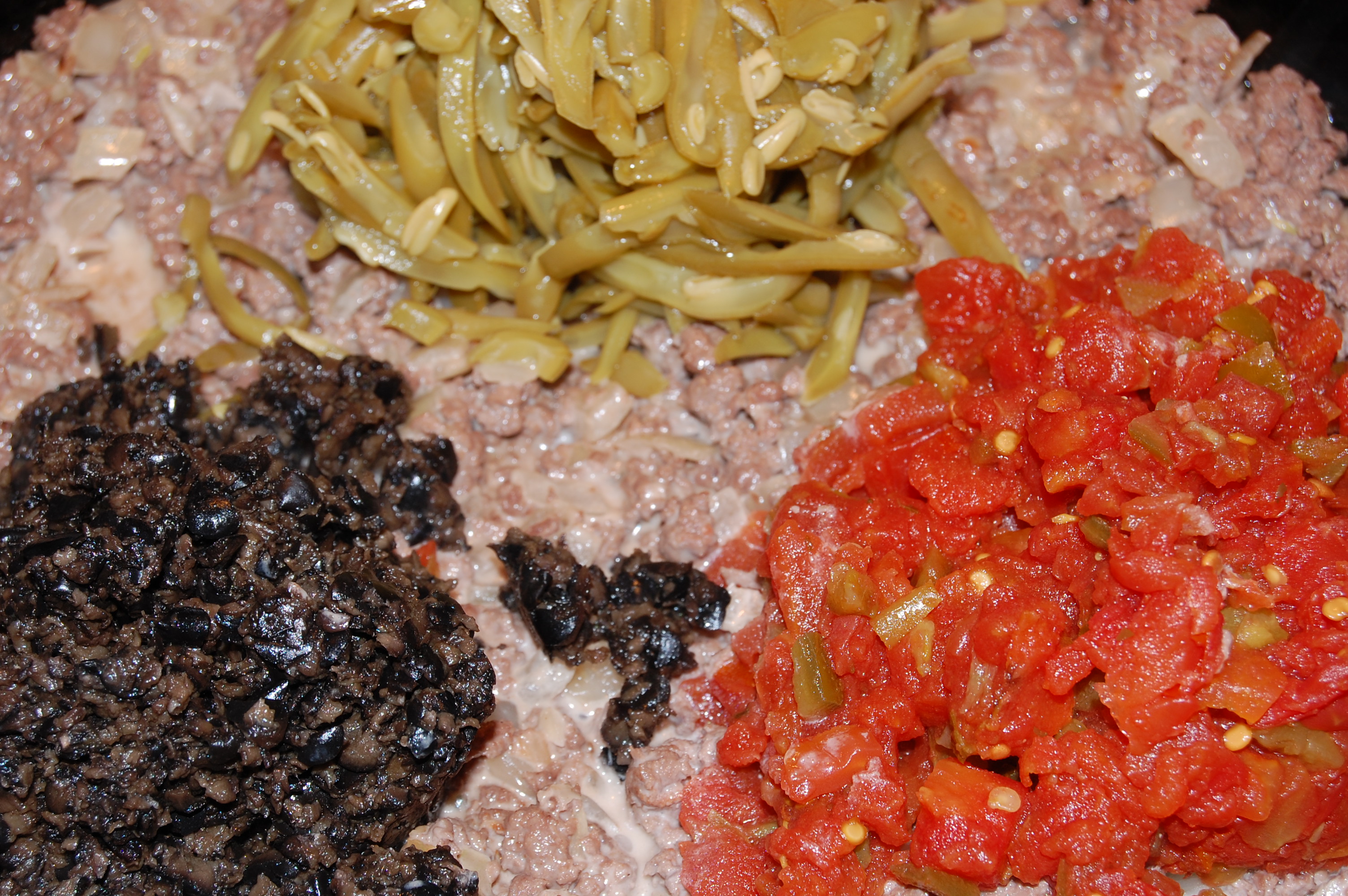 Step 7: Add the green beans, olives and tomatoes. Stir. Add the soup, stir again, return to a simmer and re-thicken. Kill the flame. Stir in the cheddar and cream cheese. Salt and pepper to taste.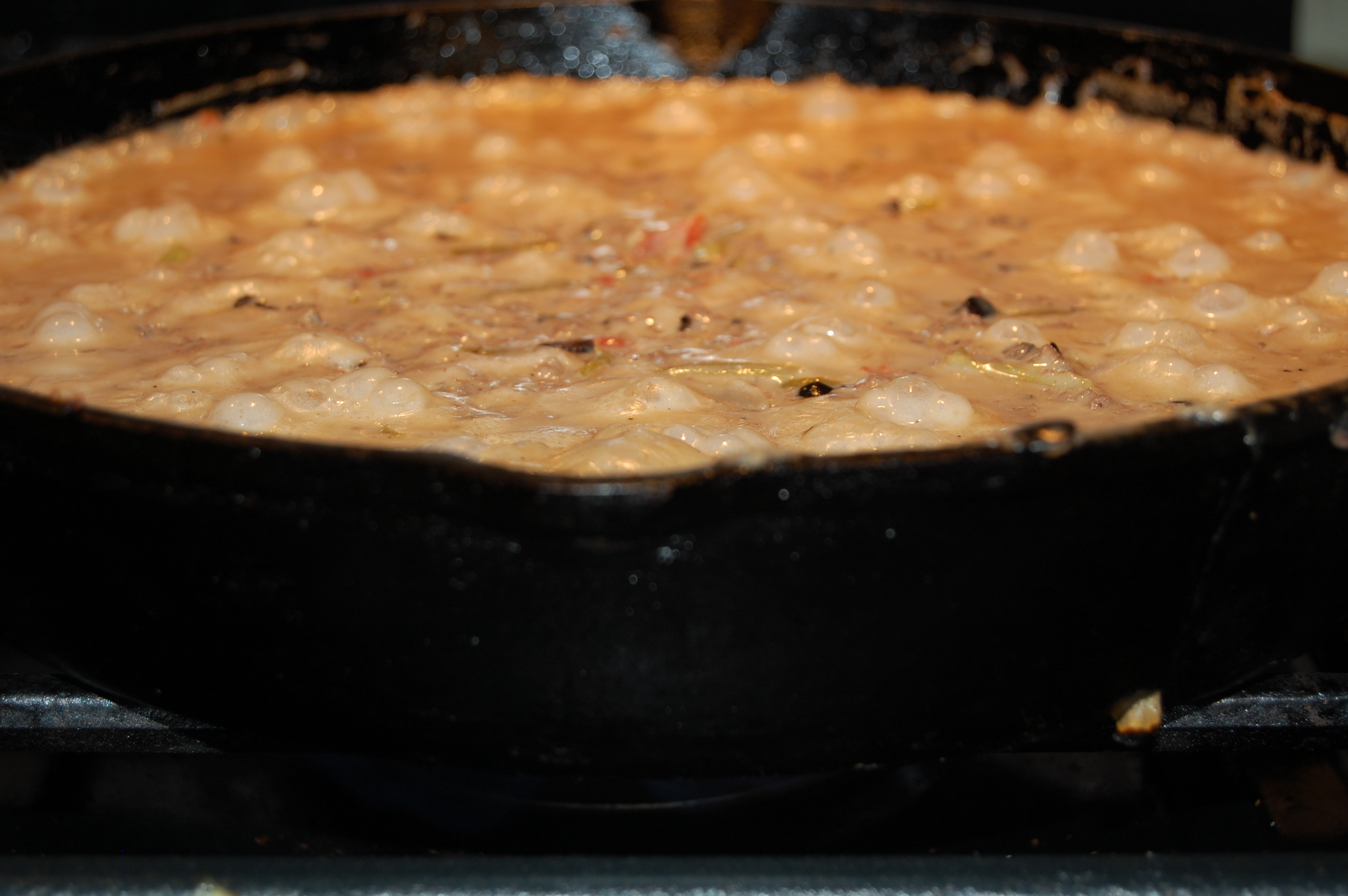 Step 8: Starting along the outside edge, place tots end-to-end and side-by-side until the entire top is covered. If you're in the dog house, or angling for a less than universally popular hunting trip, supplemental tots can be arranged in a heart or perhaps your off-sider's initials atop the primary layer. Don't laugh… you've done worse in a pinch.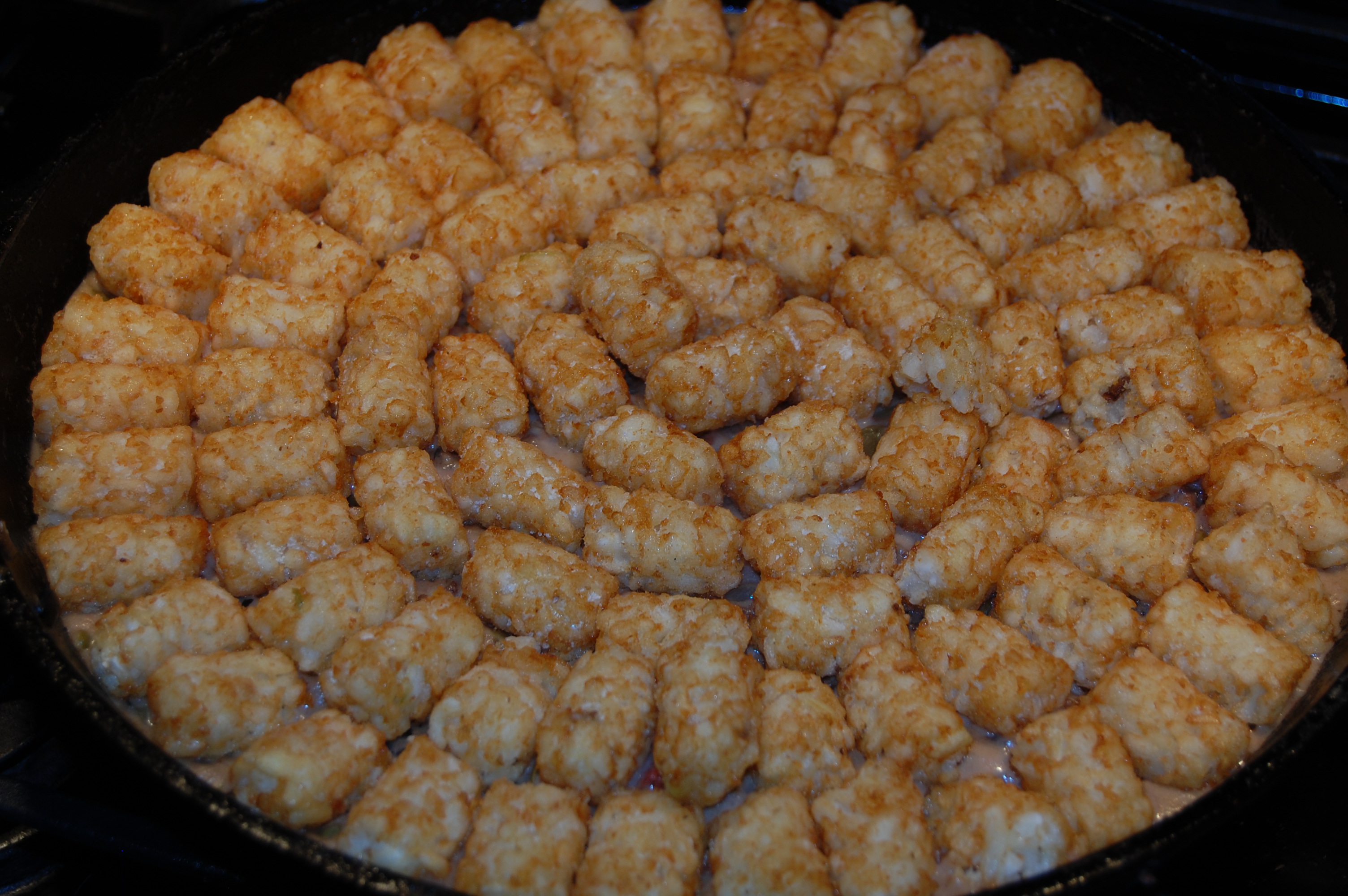 Step 9: Bake that bad-boy at 450 for thirty minutes until bubbling in the center and crispy golden-brown on top.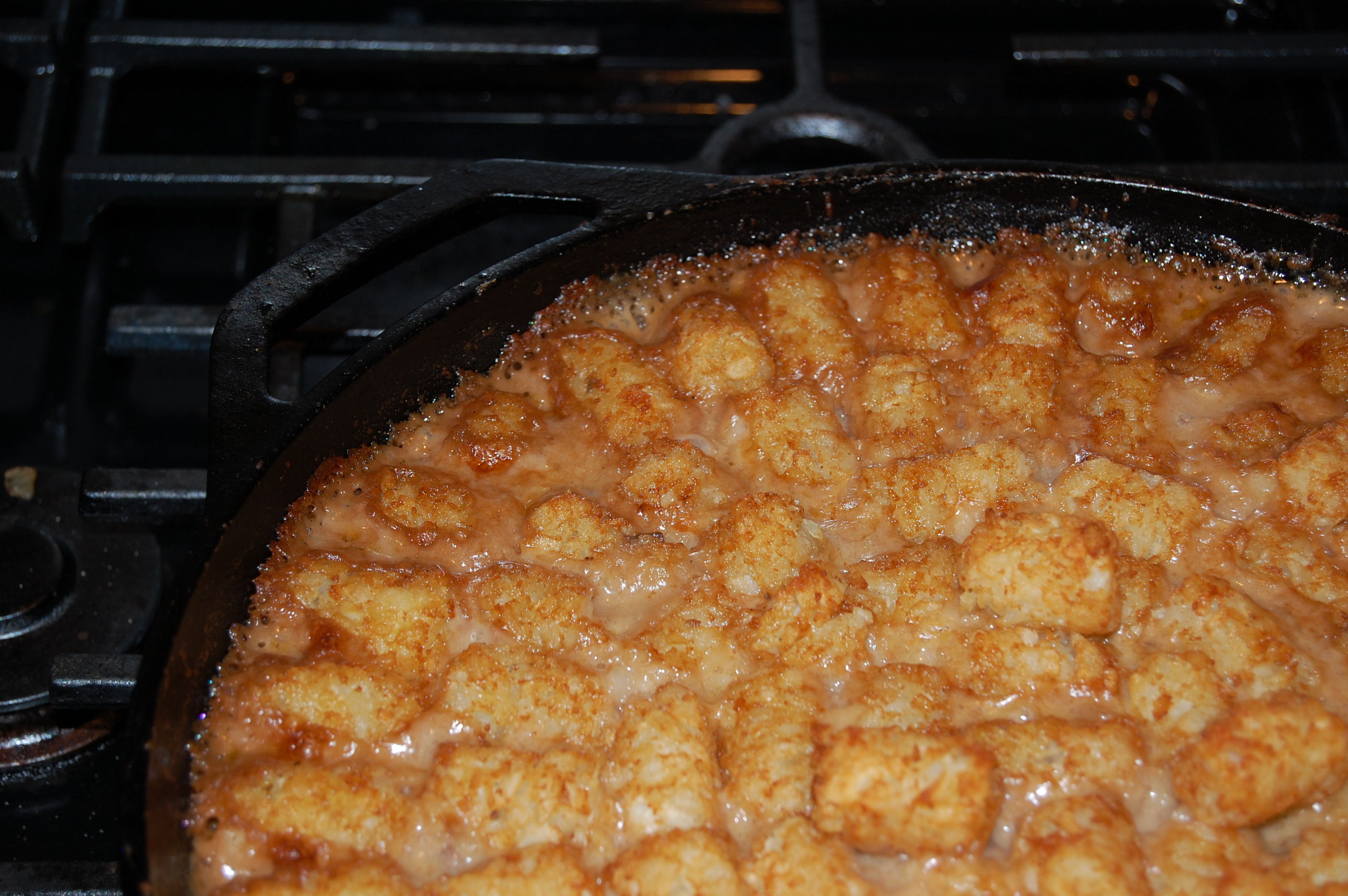 Dig in. You've earned it.
Elk Toterole
1# Ground Elk
1 bag Tater Tots
1 medium Onion
1 can Ro-Tel Tomatoes
1 small can Chopped Black Olives
1 can French Cut Green Beans
6 oz Cheddar Cheese
2 oz Cream Cheese
15 oz Cream of Mushroom Soup
6 oz Heavy Cream
Butter
Salt and pepper
1. Heat Oven to 450, Chop onion and grate cheese while you're waiting.
2. Saute onion until soft. Add ground elk and cook until almost browned.
3. Remove from heat. Stir in cream. Return to low flame and thicken.
4. Add tomatoes, green beans, olives and soup. Heat until bubbly and rethickened. Remove from heat and stir in cheeses. Season to taste.
5. Cover with tots and bake.