Of Tots and Trout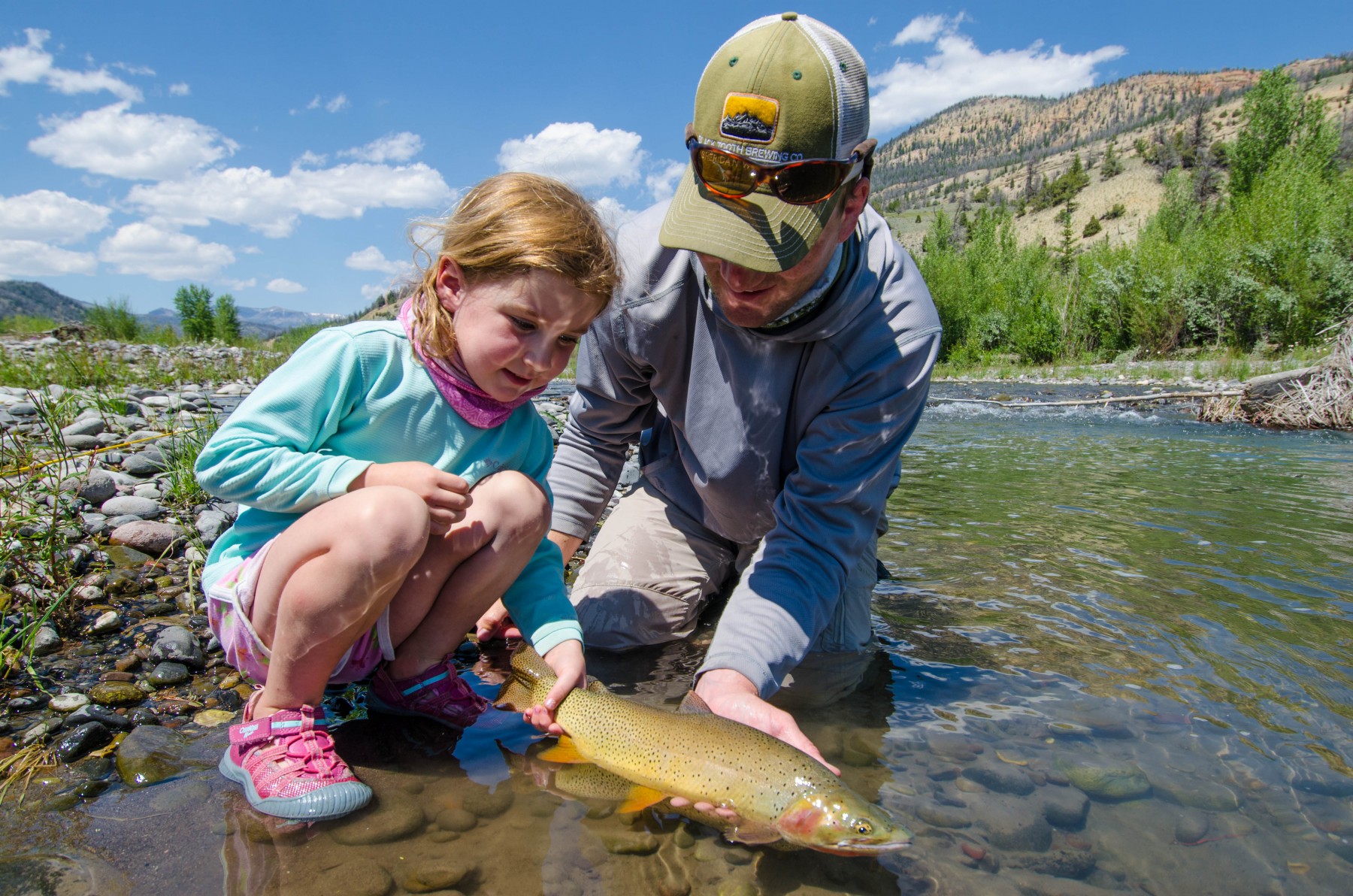 Two feet tall, pigtailed, and wearing a furrow of concentration, Ayden is here not just as a hall pass for her father. She's here for the action. And though she is innocent in matters of predator and prey, she has expectations.
"More fish Daddy. New fie."
"My daughter humbly suggests you consider a different fly pattern," translates Steven.
He's amused, and with good reason. We've worked together upstream, alternating holes, and Steven has consistently plucked the alpha trout from his lot. He's even had the temerity to glean fish left otherwise unmolested in mine. As Steven is a much better fisherman than me, the tally isn't especially noteworthy. But that he's doing it while doubling as sedan bearer for a squirming, kicking, Croakies tugging, snack-cup wielding, zerbert-blowing peanut gallery has my ego a bit frayed.
"Thank you, Ayden. You're such a good helper. I think I'll dance with the one who brung me, though."
The babytalk for her, and the declaration for her father, are met by a half squint of focus by the younger and a bemused grin by the elder. Thus disabused by a tot of the self-deception required for successful fly-fishing, I send a clumsy cast long and slap line, leader, and fly onto the surface like a winning domino. The resulting trout exodus could be seen from space. When Steven—ever the diplomat—suggests we rest the hole with a round of refreshments, I'm in no position to argue.
This stretch of river wends across a Nature Conservancy owned ranch where best practices riparian zone management and fishing access limited to one party per day have turned a once struggling cow-calf operation into a win-win for sportsmen and cattlemen alike. The work done by TNC and its ranch managers is easy to admire in concept, but in-the-stream experience of the parcel drives home one's appreciation. It's a bucolic marvel of river, pasture, sandstone, and wheeling swallows so self-evident that Steven and I talk instead of topics less diminished by words—work, honey-do lists, politics—and finally not at all. Mostly we just sip our beers and watch Ayden chase grasshoppers.
I can only guess what runs with Steven's imagination while his daughter bushwacks through tall grass and tumbles over river stones. For myself, I'm grateful to witness the unchoreographed interplay of dad and kiddo. New to fatherhood, I've only begun to understand just how ill prepared I am. These simple moments of daddyhood done right are a serendipitous catch, and I don't dare spook them with question or comment. In silence we feel the valley begin to yield its afternoon heat to the reservoir of cool air pouring off the mountain—a long gentle exhalation at day's end—and rise to our cue.
Back on our feet, or kid carriers as the case may be, we're once again a team taut with anticipation of the unknown. Steven is casting across the river to what appears little more than damp sandstone. His first cast is unapologetic despite my snicker. With his second nearly identical effort I'm ready with a snide barb, but think better of it. With the third attempt I take note of the focused brow Steven passed to his daughter and, eyes darting from angler to his imitation grasshopper, I catch the faintest flash of golden darkness before the hopper vanishes into a miniature Charybdis. A rod tip comes up, a reel screams to life, and Ayden shrieks like she's the one who's been hooked. The rod is doubled forward and she's arched backward, jaw clenched below saucer-wide eyes, tiny fists squeezed tight at the end of trembling arms. Three, four, five eternal heartbeats before she regains relative control of herself and begins to bounce up and down, threatening her father's balance.
"Big fish, big fish, big fish Daddy!"
"That's right, sweetheart," says Steven in a failed stab at nonchalance. Quick sidelong glances betray his excitement, eyes that ask both the familiar "Did you see that rise?" and something new: "Did you see my daughter?"
I had seen Ayden. I'd seen something that at 35 I could no longer produce, but nonetheless felt a kinship to. Her miniature body had spoken in a lost language I could understand so long as I didn't try to translate.
Good luck finding that on the Disney Channel.
_______________
* Excerpted from Of Tot's and Trout, which originally appeared in the March / April 2013 Issue of Gray's Sporting Journal.
The events described above are 3 years gone. Our focus in the years since has been the perpetuation of similar opportunities for our kids, ourselves and sporting families everywhere. That drive has led, in part, to the creation of Stalking the Seam. Stay tuned for the second half of Of Tot's and Trout, coming to STS next week.