Bonefishing: Mangrove Cay, Andros Island Bahamas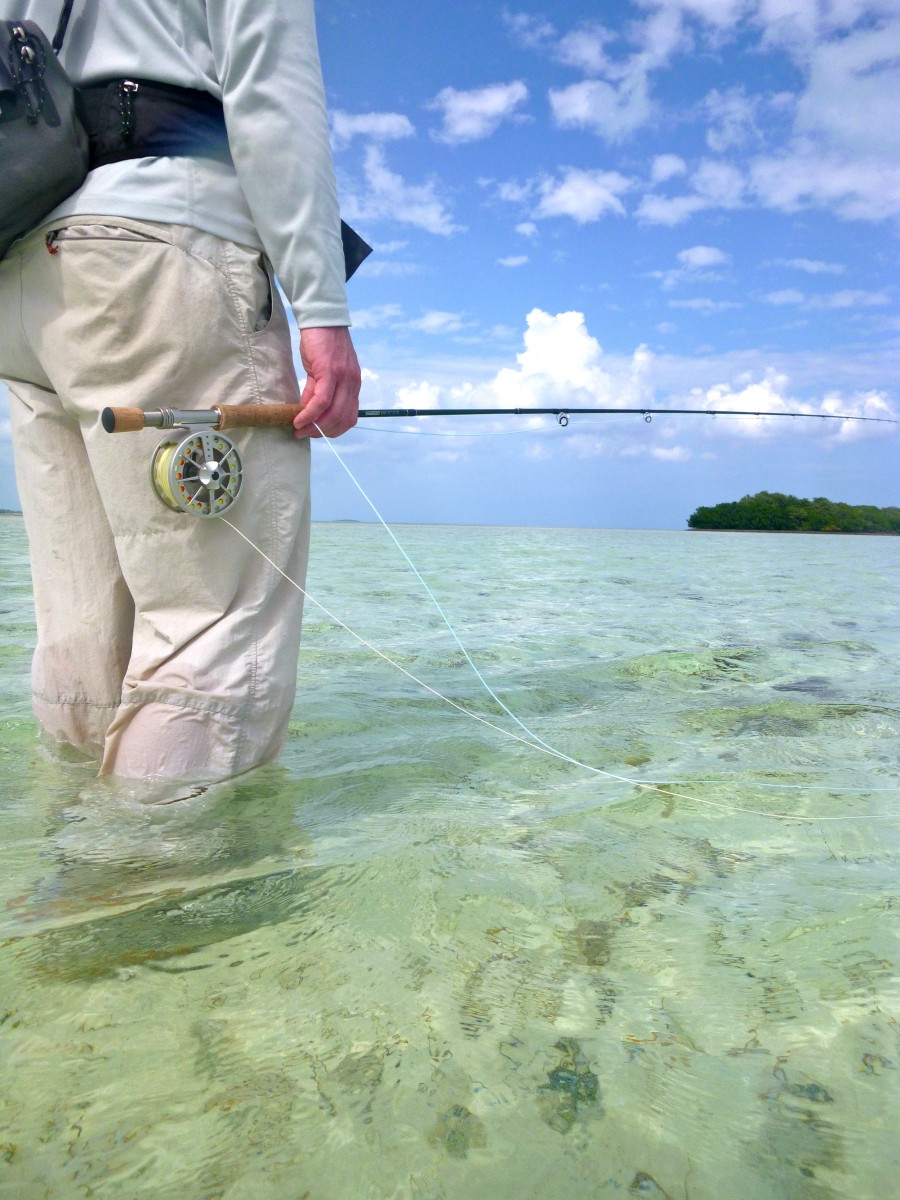 My wife and I had the opportunity to go on a real vacation for the first time, and without the kids nonetheless. Remembering the value of getting a break when I was little my parents wanted to give us the same gift. Thanks are in order to my grandparents for setting the stage! With the opportunity present all we had to do was make it a reality.
Criteria for planning the trip:
The trip could not be a fishing focused trip and I could not disappear for 10-12 hours a day.
We both wanted to go somewhere warm and on the ocean. Leaving winter in Wyoming in late February/early March for warmer climes is a good thing.
If we were going somewhere warm I might as well be able to fish. I had never bonefished before and was anxious to cut my teeth. I needed to be able to do it in small chunks. Accessible flats, wadeable on my own were a must.
What we went with:
The number of options was mind boggling.  From the Yucutan to Belize, The Bahamas to Honduras we looked at it all. Ultimately we had to choose something and it was important that both of us were bought in. What this means is that my wife needed to be as excited about where we were going as I was. There was no way I was going to push hard for a particular place and risk a vacation she hated that would be blamed squarely on me. No, the risk was too great, we needed to be in this together.
We settled on the Seascape Inn on Mangrove Cay, Andros Island Bahamas. Andros is the largest and least inhabited island in the Bahamas, it is also know for amazing bonefishing. The quiet remote setting was perfect for us and Seascape Inn's simple but well kept accommodations were exactly what we had hoped for.  Hosts Mickey and Joan were gracious, keeping our bellies full and providing us with any information we needed for our week with them. In front of our one room bungalow was an idyllic white sand beach that stretched for miles. Hardly ever seeing another soul, we were comforted to know places like this still exist.
The Fishing:
The plan was to primarily fish on my own with one day of guided fishing, which was a combined birthday and Christmas present from my wife. As soon as we arrived my rod was strung up and I decided to check out the flat directly in front of Seascape. Within thirty minutes I had hooked two small bones and a small barracuda. The bones were about a half pound each and for some reason I determined they were babies and didn't count. Conditions were perfect, I was encouraged by seeing fish immediately, and I was blown away by the beauty of the place.
The next day a cold front/storm moved in with temps in the 50's, high winds and rain. It lasted three days. Undeterred I fished. There was nothing I would rather be doing, but catching fished proved difficult, or that is to say I didn't catch any. I saw fish, but with the cloud cover it wasn't until I was on top of them. Usually we scared the crap out of each other and I was treated to a brief view of a grey torpedo getting out of Dodge.
During the storm only one day proved entirely unfishable. The other two I bundled up and kept at it. If I had waders I would have worn them.  For the first of March this storm was apparently unique in that it was too late for the cold temps and too early for rain. We had both. On the third morning I rode my bike through the rain to an expansive flat. The rain stopped and the water became glassy.  Suddenly, several tailing bones appeared. However the sky was still overcast and the water was the color of asphalt, I couldn't see a thing.  With the tailing fish consistently out of range and no way to see where they were headed I never got a shot, but it left me wanting more.
Originally, I had wanted our day of guided fishing to be early in our trip, so that I could learn as much as possible and apply that to fishing on my own. The weather forced us to change our plans.  After the storm broke my wife and I spent a day fishing with Patterson Bowleg. We were treated to a fantastic day. First, you really cannot appreciate Andros until you see it from a skiff. The island is an expansive wilderness that is roughly 100 miles long by 40 miles wide and has a greater land mass than all the other Bahamian islands combined. Just getting a sense of the islands vastness was a highlight.
On the fishing front my wife and I both caught fish and missed more. Seeing a solitary bone hone in on my fly, following as I stripped, and then teeter tottering forward to eat, was as satisfying as I could possibly have imagined. It was still cold by Bahamian standards but the sun was shining and the water was shades of blues I cannot describe. I was in heaven. The next day a gentleman I had met from Washington invited me to join him for another day of guided fishing, I accepted. After the storm, I was ready to splurge and we had another magical day.
With only a couple hours before it was time to catch our plane I waded out in front of the Seascape one last time. The tide was perfect the sun was high and despite a good chop from the prevailing wind I was optimistic. As it was almost time to go a school of about twenty fish appeared, heading my way. Trying to remain calm I put forth a decent cast, stripped, but no one looked.  Two more cast led to the same result and the chance was gone.  This moment is etched in my mind and only has me yearning for my next saltwater adventure.